Hi, it's magic!
Would you like to see our AI chatbot in action? Try Actionbot!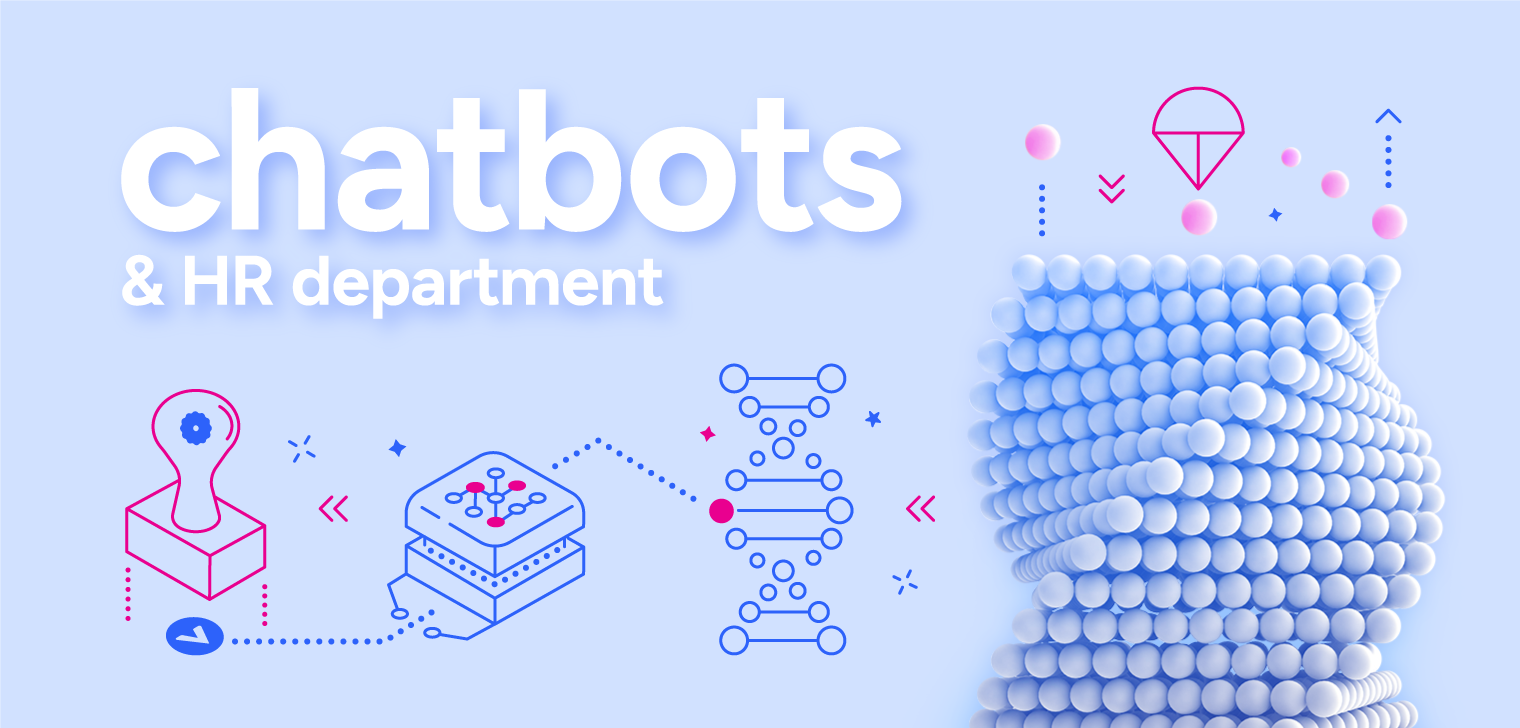 All
Automate internal processes with the help of HR chatbots
Conversational chatbots are revolutionizing the way HR processes can be carried out today. They can engage in human-like conversation with every employee or new candidate, relieving the HR department from the more repetitive tasks. In addition, HR chatbots are the best in understanding context or automating processes, thanks to Machine Learning, Natural Language Processing, automation and predictive analytics capabilities. Read our article to see what other benefits can HR chatbots bring to your company.
How can HR chatbots optimize work?
Nowadays, chatbots are being implemented to optimize multiple services. However, most companies focus on external interactions, such as customer support, and not on the automation of internal processes. HR chatbots are designed and trained to replicate the role of the HR department, being available 24/7. They can give employees easy access to files and information, identify queries and provide the most relevant answers, or even carry out a few automated tasks for employees.
HR department manages the whole human part of a company. They mainly take care of the company-employee relationship, managing all professionals, from hiring to retaining talent. At the same time, they implement favourable environments, which enhance employees' motivation. HR departments have a challenging job that HR chatbots can carry out instead. Task automation allows HR managers to use their time to keep employees focused and focus on larger challenges within the company.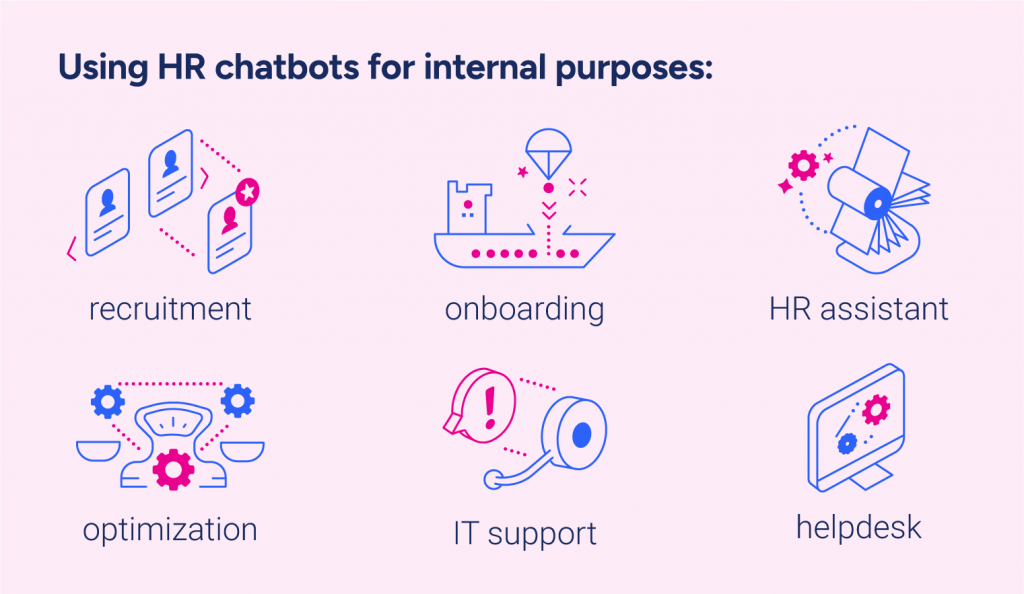 Main benefits of HR chatbots implementation
HR departments are involved in many manual and repetitive tasks in recruitment, payroll management, employee engagement and other internal queries. They handle multiple phone calls and emails each day, so they don't have the time to focus on more critical tasks. As a result, employee relations and experiences, learning and development processes, or talent management are left behind. The implementation of HR chatbots within companies enable the whole department to transform itself greatly.
If you want to see how Actionbot was used for internal purposes, read our latest article, illustrating case studies in TUATARA and Omantel.
Save time and boost productivity
HR chatbots can process a much larger number of questions at a higher speed than any human could. Besides providing answers to the most asked questions, they enable workflow creation to complete processes, support internal communication and assist with employee onboarding. By eliminating repetitive tasks, HR employees are left with more time to focus on getting their tasks done rather than searching for information. Also, chatbots can boost employees productivity, which often suffers because of performing these small repetitive tasks. Chatbots automates such activities, which can improve employee productivity by over 70%. Besides internal HR tasks, chatbots also help employees automate simple tasks in external tools tied to their separate departments.

Decrease the overhead HR costs
Chatbots can also reduce company costs. First of all, they can save the hours per week spent by the HR department in assisting with generic and employee-specific queries. Then, they can help with all the repetitive support tasks that are part of the onboarding process for new employees. Also, they can assist in the internal HR helpdesk. Due to the HR department influence on employee engagement, chatbots can also reduce their turnover. Finally, chatbots allow better access to the company knowledge base, enabling the HR department to work more efficiently and accurately, cutting operational costs.

Enhance onboarding experience
Research proves that a successful onboarding process can improve talent retention even by 82%. Onboarding allows new employees to get to know the team and plays a significant role in teaching them how to communicate within the company. An increasing amount of companies reach for AI chatbots support in this process. They enhance the employee experience due to their tech-savvy nature, improving company morale and enabling onboarding through many solutions. HR chatbots don't require training to be effective, so they make it simple for new employees to familiarize themselves with their internal systems, procedures and culture.
Support remote work
Since the beginning of 2020, remote work has become the main work option for many people. Chatbots help to ease the stress that can be a part of working from home. They are here to provide 24/7 support and easy access to information. Besides, their automation options help automates processes such as timesheet reporting or work leaves. Overall, they also have a positive impact on interactions between employees.

Better knowledge management
HR chatbots can improve a company's internal knowledge management system. They are an entry to the complete database of company knowledge and information. Enterprise search is now going through an efficiency crisis, and HR chatbots are a great solution to that. Their UX-friendly interfaces save employees' hours spent looking for documents or going through applications to find data they are looking for. Well-designed chatbots sum up all accessible company knowledge and display it in a direct, approachable way. They make internal processes and daily tasks seamless by delivering exactly what is needed. The engines behind them also ensure that the information is accessible to everyone regardless of the search strategy and keywords skills.

Gather customer insights
Gathering insights is an important aspect of a company's performance improvement. Unfortunately, many companies fail in this process because they lack of effective feedback solutions. HR chatbots come to the rescue by creating a structure of feedback loops. Based on the types and frequency of questions asked, management can determine the information that needs to be shared better or that still requires documentation. For example, an HR chatbot can provide an overview of the communication gaps within the company and propose a solution to help fill those gaps. Similarly, chatbots give data on task automation, indicating the types of tool integrations that are missed or need to be expanded.
Actionbot is the HR chatbot your company needs
Our case studies prove that Actionbot is the answer to every HR department problem. Not only it automated the repetitive tasks, reducing the work of HR employees, but also it once again proved to be a proactive assistant answering the market's needs. So if you want to see Actionbot in action in your company, contact us – we'll make it work!