Hi, it's magic!
Would you like to see our AI chatbot in action? Try Actionbot!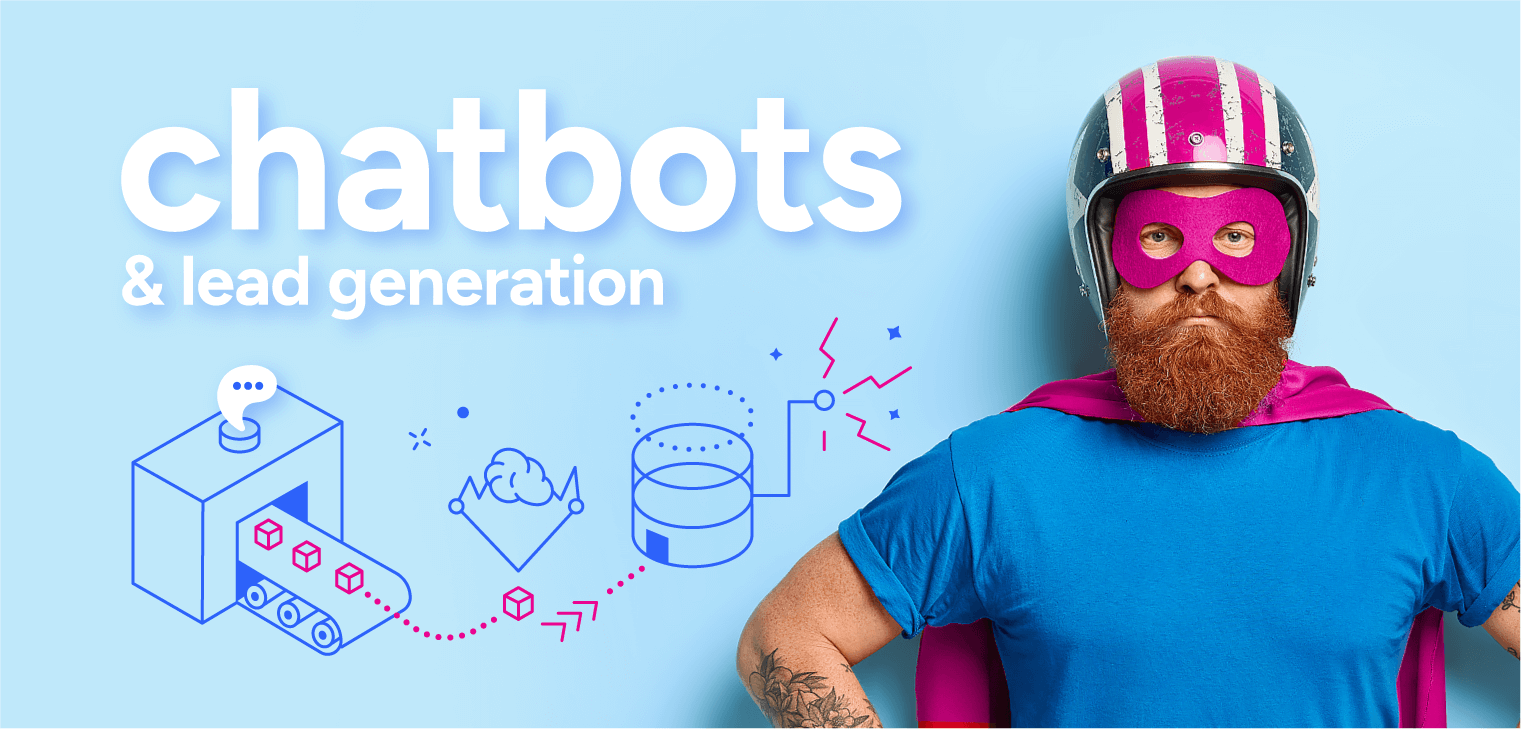 All
Generate more leads thanks to lead generation chatbot
Lead generation is one of the key elements of online marketing. Businesses are dependent on relevant leads as they raise the traffic and increase the possibility of converting leads to future customers. Almost all industries indulge in automation, which is taking up various roles that a customer performs manually. Lead generation chatbots are one of the tools to assist marketers in connecting with their targeted audience effectively.
Lead generation and its importance to business
Lead generation is a process of collecting customers' interest in a company's products or services. Leads can be generated with various advertising methods, organic interest or customer advocacy.
Digital marketing allows businesses to create huge traffic, which can increase conversion rates and generate better leads. With good lead generation traffic, it's easier to create a target group of customers who are actively looking for a product or service. A possibility to convert a lead into customer increases if your business stands out. There are a lot of different methods that improve lead generation strategy. One of the latest would be the use of chatbots.

Generating leads with traditional methods can be truly effective, but including a lead generation chatbot into your lead generation strategy can definitely pay off. Customers prefer using chat, and that increased during the times of pandemic. That's why chatbot conversion rates are higher.
How lead generation chatbots increase business efforts?
Chatbots are used to leverage the benefits of lead generation. Their conversational approach and 24/7 support help optimise customer experience and boost lead generation online. They provide an efficient way to connect with more prospects, gather valuable contact information and nurture prospects through the marketing funnel.
They are tools that can be used to build relationships with customers and prospects. They can be used to welcome new visitors, qualify leads, launch a new service, offer a discount, fill in a form, etc. There are a few ways to use the potential of lead generation chatbots, and if the company follows them properly, the business efforts will increase.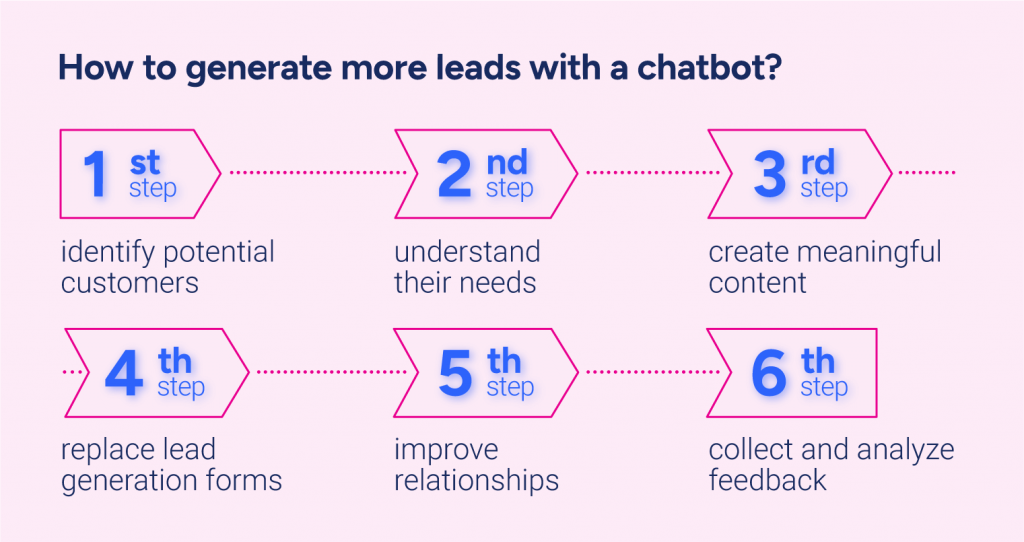 Identify potential customers
To make products or services attractive to prospective customers, you need to know them better. Segmenting the audience will help generate more qualified leads. Customer profiling works well for various businesses. It gives a competitive advantage and allows to proactively communicate with prospects while also assist them in the best possible manner.
A chatbot makes it easy to understand the audience. Gathering demographics data about customers, focusing on their psychographics, observing the competition – all these improve lead engagement. Lead generation chatbot can ask questions that help companies get a better idea about their best and least-performing products too. A product analysis defines their benefits and analyses who would like to buy them.
Understand customers' needs
When knowing customers' needs and wants, it is easier to develop healthy communication. Lead generation chatbots help understand potential customers better and segment the audience, which is crucial for any campaign. It allows marketers to create the right content for the right prospects.
Lead generation chatbots help you identify the interests, likes, dislikes and create more engagement, resulting in more leads. Running chatbots surveys can engage customers by asking questions to understand the best and least performing products better. Marketers use the right communication at the right time to move the leads into the conversion funnel.
Create meaningful content
A chatbot is the first contact point during the onboarding process. A welcome message marks the beginning of the relationship with a new customer. It also helps boost their engagement and maximises chances for generating leads effectively.
Meaningful content from the starting point of the lead generation campaign can improve the whole marketing strategy. The idea is to build trust in customers, make them feel welcome, and ensure that they engage with the company. Chatbots can use content that resonates with customers. Having a lead generation chatbot on the website is important for establishing long-term relationships. Chatbots use messages, questions, images or GIFs to make the conversation more interesting.
Replace lead generation forms
Filling out forms is an arguably dull task that customers don't want to do or sometimes even don't know how to do. Thanks to the human-like conversational ability, chatbots can replace difficult forms with interactive messages and questions that easily encourage customers to leave their contact details.
Chatbots can ask for their contact details within the conversation. They do not only smoothen the whole process but also streamline data collection methods for companies. By impacting lead generation results, chatbots can further assist in lead scoring or upselling and cross-selling efforts. Customers find it easy to provide the asked information within a chat.
Improve relationships
Trust is the foundation of a relationship. Lead generation chatbots help in building that trust by having regular contact with the audience. It engages users by providing instant support and always being available to help. Such behaviour proves that the company can always be relied on.
People rely on chatbots because they are here for the customer. The most advanced ones also take care of customers' preferences. Providing customer support via a chatbot is the best idea to win their engagement. If they find any issues related to their shopping experience or their account, they'll ask the chatbot for help. Such support helps in building a lasting relationship with customers.
Collect and analyze feedback
Lead generation chatbots acquire customers and go a step beyond to analyze the outcomes of the whole interaction. In the case of a successful conversion, the chatbot can further refine its approach.
On the other hand, if a lead fails to convert, chatbot can look for alternate methods based on the customer feedback and analysis of the process. Once the chatbot understands customers' needs, it can improve the chances of business development. It also adjusts the existing marketing strategies to be more personalized per each customer's requirements. Lead generation chatbots amplify marketing strategies that enhance a company's visibility.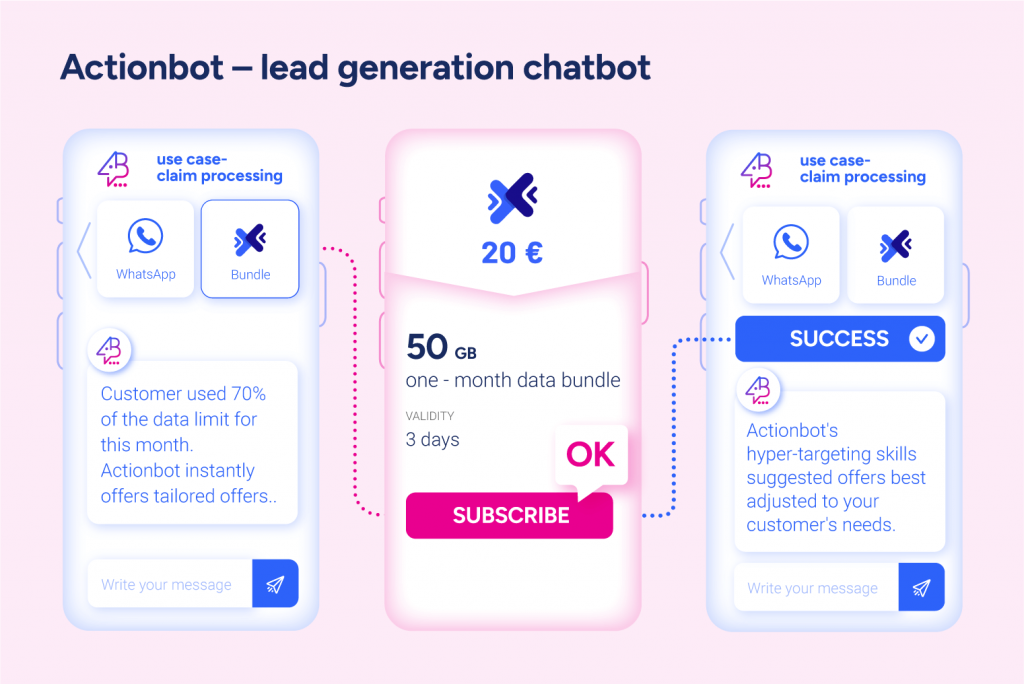 See how Actionbot assists in generating leads. Try out our lead generation demo
Benefits of using lead generation chatbot
Lead generation chatbots are designed to recognize potential customers, initiate conversation, and generate interest in a company's products and services. Chatbots are here to improve the relationship between customers and the company through a conversational approach. It also indicates that lead chatbots are supporting businesses to function precisely. But there are also other benefits they offer.

Personalized experience
The traditional conversion process is sometimes incompetent. Companies that fail to give a valuable experience to the customers are most likely to lose them. However, lead generation chatbot can prevent this.
They can respond at a precise moment and convey all the needed information to customers, which matters to them. Customers will get everything as per their preferences without the need to search for it for hours. Lead generation bots bring up the solutions promptly and deliver a smooth and user-friendly experience. They help in winning potential customers. They are effective in getting a customized journey for each lead.
Increase in engagement
Gathering leads isn't an easy task but keeping them engaged for a long time is what requires professional skills. No matter how well organized your content is, it's tough to catch customers' attention until there is something to guide them.
Lead generation chatbot can change the whole process. Instead of letting customers read and skim through a pool of information, lead generation bots deliver the relevant data instantly through a conversation. The customer learns about the product or services without a struggle.
Better conversion rates
One of the significant benefits of integrating chatbot for generating leads is to achieve higher conversion rates. The most significant types of conversion are leads from submission forms. The collected information transforms visitors into potential customers. But the whole process can be challenging.

Replacing standard methods with lead generation chatbots can be the perfect solution. Chatbots can quickly draw visitors' attention and focus solely on their engagement. This guarantees a significant jump in conversion rates. Having a website with minimised elements and an impressive conversion process impacts the ability to gather new leads. The information collected by the lead generation chatbot can be directly sent to the sales team.
Convenient 24/7 support
Deciding on a purchase involves numerous factors. Customers have multiple questions, and only successful assistance wins them over. That's why companies need to act fast and deliver a unique and effective solution. Deploying a chatbot for the website helps in supporting potential customers at the right time. They are the reasons for customers to stay and make the final decision.
Lead generation chatbots are designed to ask questions and save data in real-time. They make the interaction more engaging. Asking relevant questions allows them to identify customers issues while also generating high-quality leads. That's what makes chatbots a truly perfect solution that reduces customer frustrations and enables them to make better purchasing decisions.