Hi, it's magic!
Would you like to see our AI chatbot in action? Try Actionbot!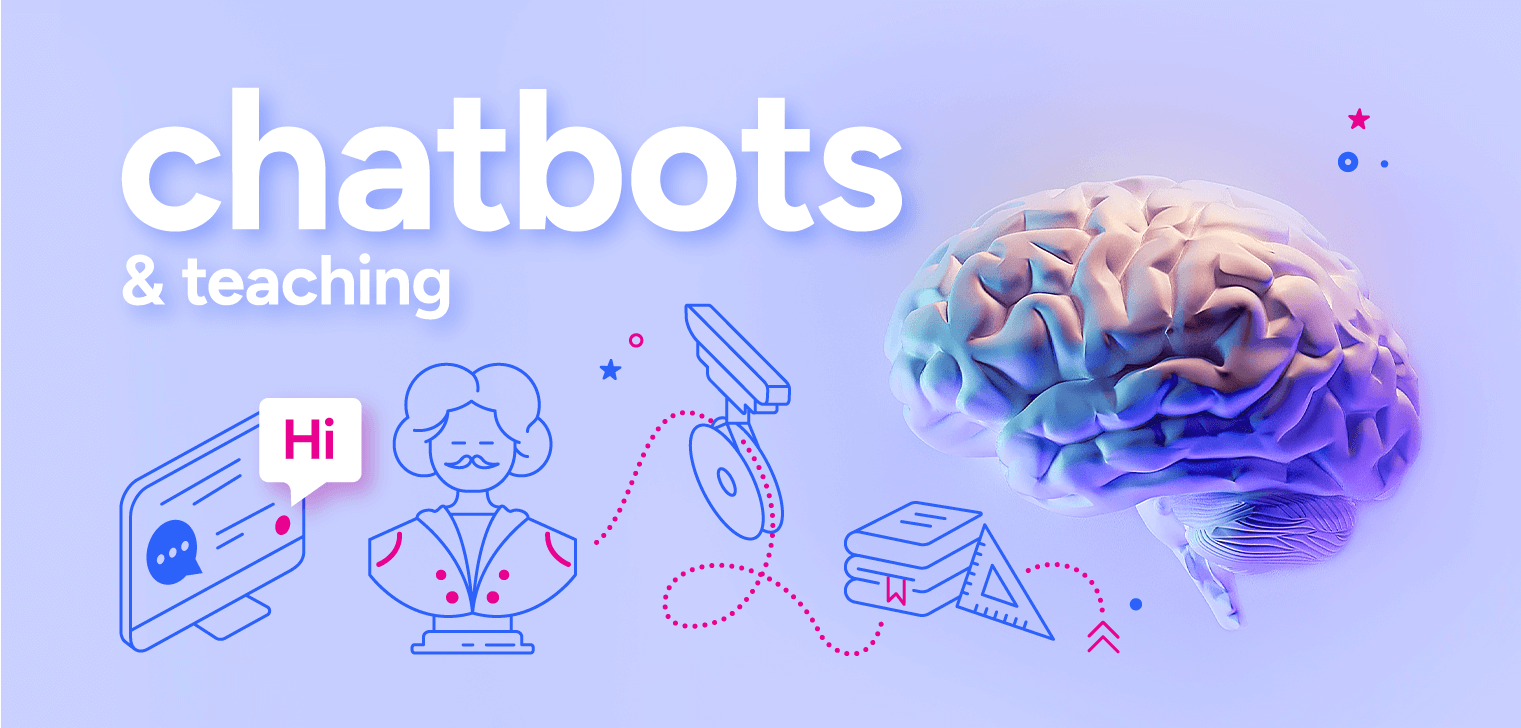 All
How using chatbots in education can change the way we learn?
Online education has gained a lot of popularity during COVID19, but it was going strong even before, too. This educational system has many advantages, led by the fact that all the student really needs to get started is a laptop and internet connectivity. However, as all the other sectors are moving towards the digital revolution, so is this one. That's why integrating chatbots in education can become an essential part of the learning process.
The current state of online education
The education industry has been technologically advanced long before the pandemic. However, since the 2020 situation, it needed to incorporate some innovations. That's where AI has stepped in. Most US and European universities use some form of Digital Learning Technology, and AI chatbots are the next best thing.

There are multiple areas in the learning industry where chatbots can help. Implementing AI chatbots in education not only facilitates students' learning process by making it more engaging, but also assists educators by easing their teaching processes, or helps the administrative staff by taking the workload off them.
Chatbots can bring mutual benefits that will improve teacher-student interactions, make the whole learning environment friendlier, or help students become more tech-savvy and ready to step into the real, adult world. So, let's take a closer look at how implementing chatbots in education can revolutionise the learning experience.
Chatbots in education support the way students acquire knowledge
The main challenge faced by the educational sector is concerned with adjusting the learning programme to each student's different pace. While trying to connect students' expectations with those of parents and teachers, the education sector has been compromising on this aspect a lot. However, educational chatbots may be of help here
AI chatbots are transforming the way schools and universities interact with their students. They help make it easier to gain knowledge and be a part of all the useful activities during their course of study. We gathered a few examples showing how chatbots in education can improve students' learning experience.
Intelligent and personalised tutoring
The most important benefit of implementing AI chatbots in education is their personal approach to students. They can closely observe each of the studying patterns and use the gathered knowledge to develop a learning plan.
It is designed to help every student, even those with disabilities. Not all are learning the same way, and not all understand everything at the same pace. AI chatbots can personalise the learning plan and make sure that each student gains maximum knowledge. They also help students with assimilating all the material.
Their automation is also really useful in education. Intelligent tutoring systems provide a dedicated learning environment to study and analyse students' responses. AI chatbots can help teach students through a series of messages, just like a regular conversation via chat.
The chatbot will repeat the cycle of assessing each student's level of understanding individually and then provide them with the following parts of the lecture as per their progress. This eases out the monitoring of student performance and helps speed up the processes.
Increase student engagement
During the pandemic, student engagement has been at its lowest. That happened mostly because of the lack of interaction with teachers or with other students. However, chatbots could really help in such a situation.
Today's students, no matter what age, are using technology constantly. Communicators, virtual assistants and social media assist students in exchanging messages. Therefore, it is crucial to use technology to increase their engagement. They can use it to share study materials, help each other with assignments or do their research. Messaging apps can also become a medium of student-teacher communication.
Implementing chatbots in education will make managing all these assignments easier for the students. Chatbots can interact with students 24/7 and help them with all their queries. What's more, students can use conversational AI to create a better learning environment for themselves and their study groups.
Active learning processes
Students don't want to wait several days or weeks to get back their feedback or test results. With active learning, students can learn the material by engaging in various activities, such as games or discussions. They can retain better and gain knowledge instead of repeating all the theoretical material. This brings a true revolution to the education system.
Conversational AI tools are convenient and user-friendly. The increasing popularity of AI chatbots helps most businesses improve communication with customers by meeting their expectations. The education sector is no different.
Chatbots in education are designed to give students information about lesson plans, course modules, assignments, or deadlines. They can also monitor students' learning progress, provide them with personalised feedback, or recommend some additional materials that can enhance their knowledge.
Proactive feedback and evaluation
Getting feedback is important for both students and teachers. It helps students identify areas in which they have some problems and, similarly, allows teachers to identify the areas where they can improve their teaching abilities.
Students use online or printed forms to submit their feedback, and teachers give it on the test or while handing back the assessment. However, the process can be much easier thanks to educational chatbots.
With chatbots, all student responses can be automatically evaluated. Then, teachers can rely on technology and give students a grade generated by AI chatbots. Also, educational chatbots can share with the students' study material they will need to improve their troublesome areas. At the same time, teachers can be relieved of the assessments and evaluations and work on giving this extra time to their students.
Instant help and assistance
The global online learning market is expected to grow to $50 billion by 2026. This calls for ensuring a strong student support strategy for educational institutions. Resolving student queries before their enrollment, during their learning process, and after finishing knowledge should be a priority.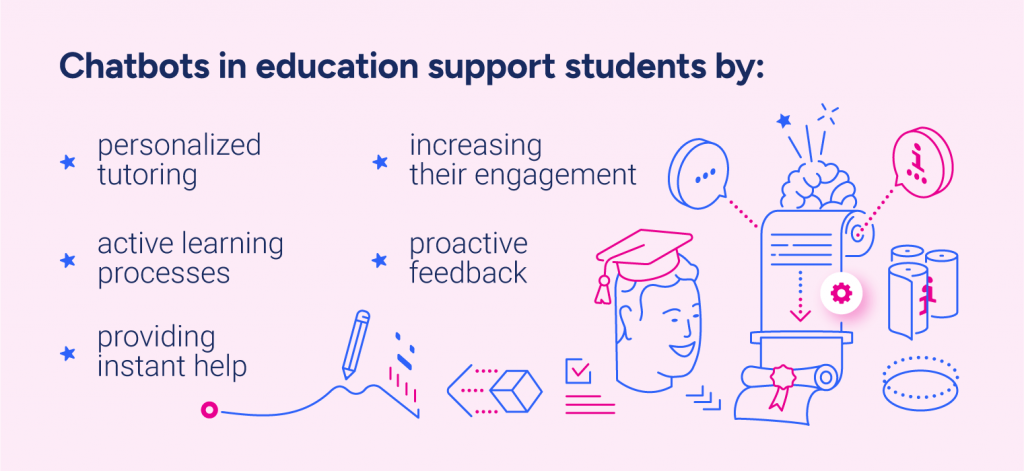 Educational chatbots can help in providing instant help and assistance to students. Since there are millions of prospective students across the globe with millions of queries, most of them being repetitive, it is important to have a solution that can resolve them in no time. And implementing chatbots in education can save up all the time these tasks would take for a human being to resolve.
Actionbot shows how using AI chatbots in education can improve the learning experience
As we are constantly proving ourselves in many different projects, the implementation of our AI chatbot in the education sector shouldn't be missed. We have recently implemented Actionbot for the University in Silesia. Our main goal was to provide students, candidates, and employees with a straightforward solution to navigate through the university website's vast resources.
Our case study was mostly focused on improving students' digital experience. However, we are not stopping there. We want to develop our functionalities in various areas, so improving the learning process could be next on our list. If you're interested in seeing Actionbot doing its magic in the educational sector, contact us!