Hi, it's magic!
Would you like to see our AI chatbot in action? Try Actionbot!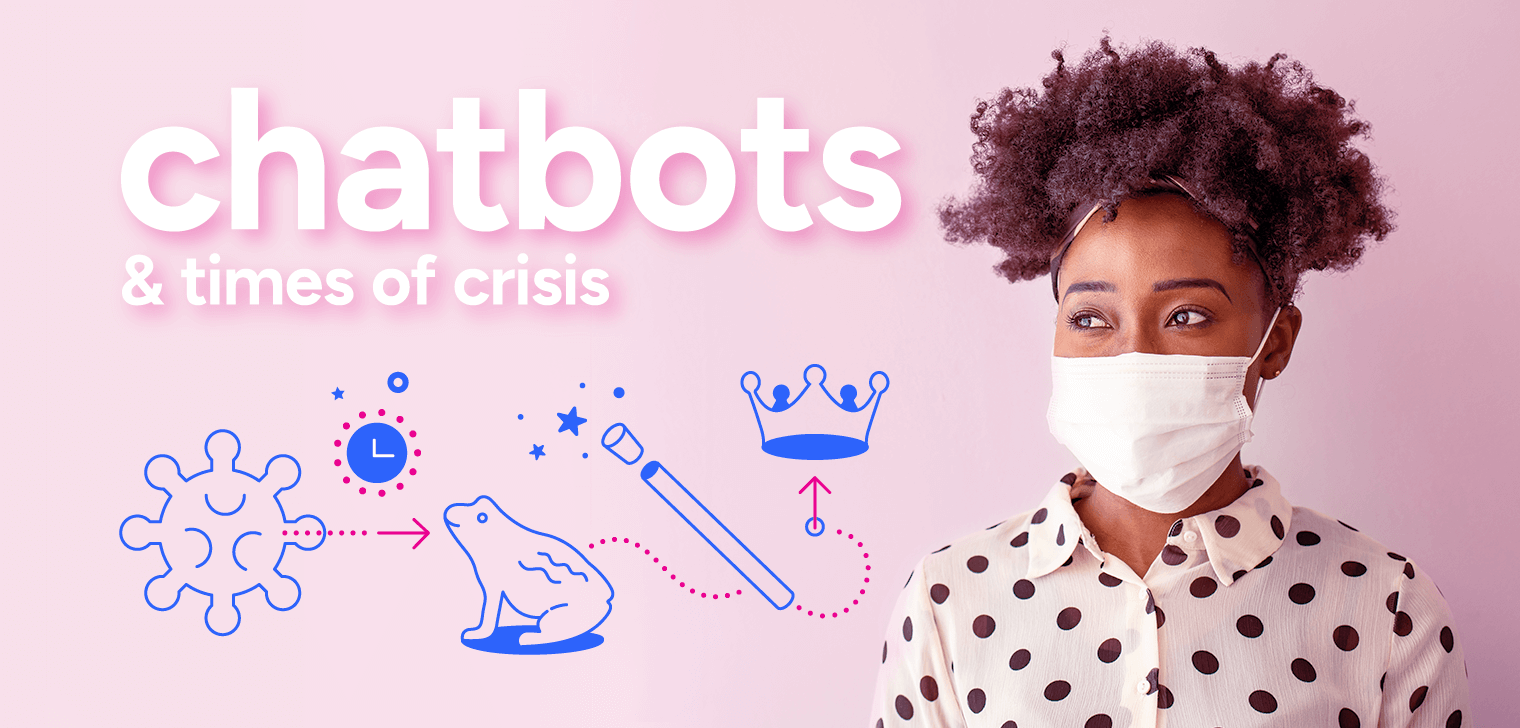 All
Chatbot use cases prove digital transformation's importance during the crisis
The COVID crisis has left a significant impact on the way most of the industries operate. The pandemic forced them to rethink their business strategies to survive the new reality. Within just a couple of days, the digital transformation evolved from a forward-thinking approach to a "now or never" priority. But in every disruption, there is an opportunity for change. And this time we have a few chatbot use cases to prove it. Chatbots not only became support for citizens, by sharing useful information, encouraging to check their health, and assist them because of the psychological aspect of being in isolation, but also, they became a third-arm for businesses in communication, lead generation, or navigation.
COVID-19 and its impact on businesses
2020 started with a global pandemic that forced all of us to change the way we live. With most people staying at home, it is no surprise that our lives became even more digital than ever before. Companies had to put their focus on the online part of their businesses. They needed to provide their employees with the equipment to make their work comfortable, but also create new ways of communication with their customers to engage them to stay loyal to the brand. They turned to digital transformation as the perfect solution.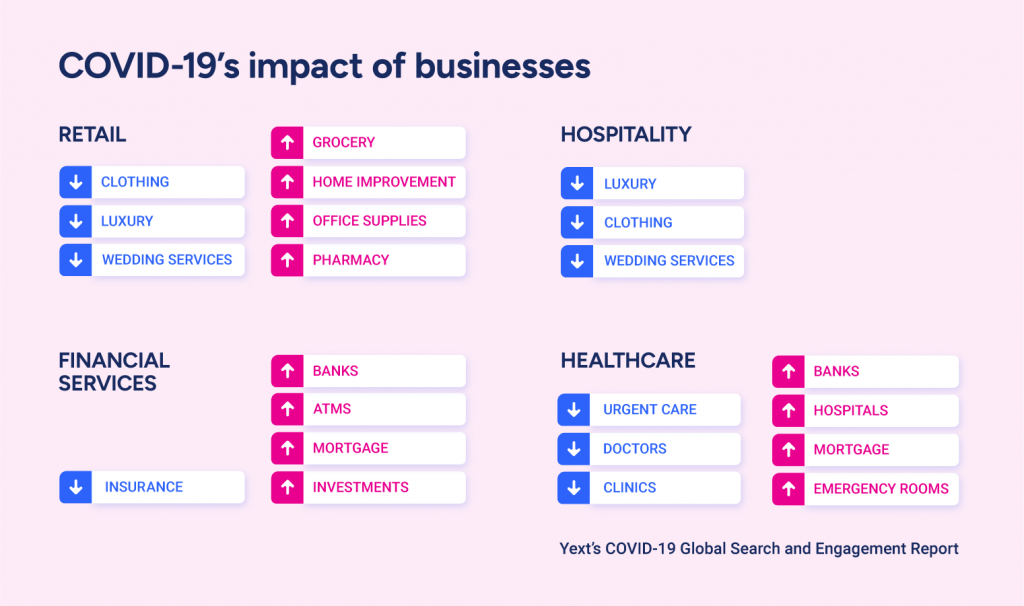 With an increase in working from home, there is also an increase in searching for home office supplies. Mailing services are overwhelmed with sending packages that made staying connected with friends and family possible. Many schools needed to move their resources to the digital world and start teaching children online. The whole food delivery system needed to be changed entirely, as most restaurants were temporarily closed. And these are only a few examples of changes, gathered by Yext, Inc.'s COVID-19 Global Search and Engagement Report.
How chatbots gave a helping hand in the times of crisis?
With most people moving their actions online, there was a significant need for agents available anytime anywhere. Therefore, AI chatbots became so popular during the pandemic. We have a few chatbot use cases to prove it in the further part of this article.
Their primary functionality was to provide people with necessary information about the virus's impact on selected sectors and actions that needed to be taken. Later, they became more advanced assistants in most digital processes, such as navigation, sales or solving queries to reduce traffic in other channels, i.e. call centres.
Chatbots turned out to be useful for various reasons:
Below you can find a few examples of the impact that covid-19 had on selected sectors:
Information: they became a quick and easy way to receive the needed information; also, a great way to debunk fake news,
Assistance: they offer interactive support for customers' requests,
Guidance: they became support in navigating customers,
Suggestions: they provide customers with proposals of offers they might be interested in, based on analysis of their digital actions, interests, and preferences.
A few successful chatbot use cases
Chatbots proved to be a useful tool even before the pandemic, but during the times of crisis, they showed that they are an essential part of digital life. These chatbot use cases show that companies should focus on using them as a new communication channel in the long term.
Source of information
During the pandemic, lots of chatbots were created to inform people about the virus's spread and the necessary prevention measures. But chatbots are not only to inform about the virus. Providing customers with information about the company's services is an integral part of digital life. Being available 24/7 and automatically responding to the questions regardless of the time zones are those functionalities that make chatbots genuinely important.

Actionbot's skills also had an opportunity to prove itself during the pandemic. Our chatbot use case is a perfect example of quick action and reaction for a specific need. Together with Oman's Ministry of Health, we wanted to provide citizens with the best service during the crisis. Our solution's primary function was to give the necessary information to the citizen. Actionbot, implemented in Oman, was able to answer the most common questions about the virus and all the safety measures. We successfully managed to create a functioning solution in two days. 48 hours since the launch, Actionbot was used by 4 310 citizens. Now, the average number of active bot users per month elevates over 20k, 10-15% of which are English-speaking. Actionbot can speak 13 languages, including Arabic. Our AI chatbot, proved itself to be a valuable source of information for Omanis, without the need for live agents. We are glad that we could help in such a matter.
Proactive customer support
The usage of during COVID-19 pandemic increased to the record-breaking numbers. 75% of customers that decided for a digital communication channel for the first time during the pandemic are more encouraged to use it permanently. That is why chatbots should become an intrinsic element of digital transformation. No matter what business sector we are talking about, one thing is sure – customers are more digital than ever before. That is why they need to be properly taken care of on each stage of their customer journey to improve their whole experience. And chatbots can be the solution to make it happen.
One of the main reasons responsible for customers' dissatisfaction is ineffective customer service. If an agent is unable to take care of the customer quickly, it is no wonder that the experience is negative. By using a chatbot, that proactively engages in the conversation and participates in purchasing the product, companies can successfully improve the whole process.

Most of the chatbots may be able to assist only in basic queries, but not our Actionbot. With its ability to speak 13 languages, including Arabic, Actionbot helps your customers, suggests the best offers, assists in finalizing the transaction, and many more.
Actionbot can become a proactive customer support assistant. Take a look at one of our chatbot use cases
Personal assistant
During the crisis, it is crucial to keep people informed and provide them with the best possible assistance. The same goes for banking and financial institutions. Because of lockdown, most of the processes moved to the digital world, but not every customer found that way of communication easy.
Calling the call centre is simple, but lines and agents may become overloaded. That is why banking and financial institutions moved to other communication channels – chatbots. They deliver digital support across all channels efficiently. Chatbots can quickly answer any question and help with setting up an account or money transfer.
Our Actionbot goes even further with this kind of assistance. Thanks to its interaction features, AI chatbot can gather information from conversations with clients, external or internal data sources (e.g. CRM), or actions and movements within the website. It reacts on time, once it discovers it might be needed by the customers. Thanks to that, customers feel they are taken care of by the chatbot. The whole process turns out to be smooth and easy.
Actionbot can assist in money transfer on your banking website. See the magic happen in our operations automation demo
Lead generation, sales & acquisition
An increased presence of the customers in the digital world means more opportunities to suggest other offers from a portfolio of the company. Customers seeing that the chatbot understands their needs can be more eager to try other services. Up-selling and cross-selling actions have never been easier.
Telecommunication sector is one of the most compelling examples here, especially during the pandemic. Not only do telco companies automate the sales process by facilitating mobile packages, but also they can know customers' needs and up-sell them other personalized services. Thanks to access to the customer's profile, our AI chatbot can propose customized products. All past interactions are collected in Actionbot's memory to improve future experiences. It is here to fulfil all customers' needs.
Actionbot manages to up-sell other mobile services. Try out our lead generation demo
Benefits of using AI chatbots during the pandemic
As we already gave a few examples of chatbot use cases, including one of our Actionbot, we can now summarize the main benefits of using AI chatbots in business, that became even more visible during the pandemic.

Assistance to the staff
Nowadays, with most people going even more digital, companies can be overwhelmed with requests from customers. Employees need to have proper assistance, that will help resolve part of the inquiries. Chatbots can be a first-line type of assistant that answers basic questions without human agents' involvement. But our Actionbot can also perform more complicated tasks, such as filling up forms based on the conversation with the customer or suggesting personalized offers.
Easy access to the information
Having all necessary, updated information in one place is crucial, especially during the pandemic. Providing chatbot with information, updating it and continuously checking what customers are looking for on your company's website, can be done without making changes in its structure.
Simple to install and user-friendly
Chatbots are not that difficult to set up. Our Actionbot needs only four weeks to be implemented. Also, it is designed to be as much user-friendly as possible to become your digital channel's personal assistant. Actionbot uses NLP and AI algorithms as well as the conversation engine from IBM Watson Assistant, with user-friendly and customizable interface enables users to make necessary changes easily. What is also crucial to remember is that communication with a chatbot should also be direct and straightforward. Chatbots are here to help, not to create more misunderstandings. We will assist you with conversation and use case creation based on your business needs.
Capturing missed opportunities
Customers are spending more time online and they leave more and more information about their preferences on the web. Chatbots that focus on gathering knowledge about their intents and needs are solutions that we need today. And Actionbot is truly a unique example. By capturing details from previous interactions, as well as information collected during a conversation, Actionbot can proactively enhance customers' interaction process. In this way, your customer feels valued and listened, and our AI chatbot can make sure that there will be fewer transaction dropouts.
Improve customers' experience
Creating a single communication point for customers is essential, especially during increased digital traffic. People can be overwhelmed with information, so they need to be taken care of. Chatbot that observes and listens to customer's needs is a perfect digital navigator and helper.
Cost-cutting and optimization
Finally, chatbots are a great way to lighten the traditional communication channels. Moving things online can be beneficial not only to customers but also to companies. Online processes can be faster, and in the long term (with further development and improvements) cheaper. Optimization of time and costs are crucial in today's digital transformation.