Hi, it's magic!
Would you like to see our AI chatbot in action? Try Actionbot!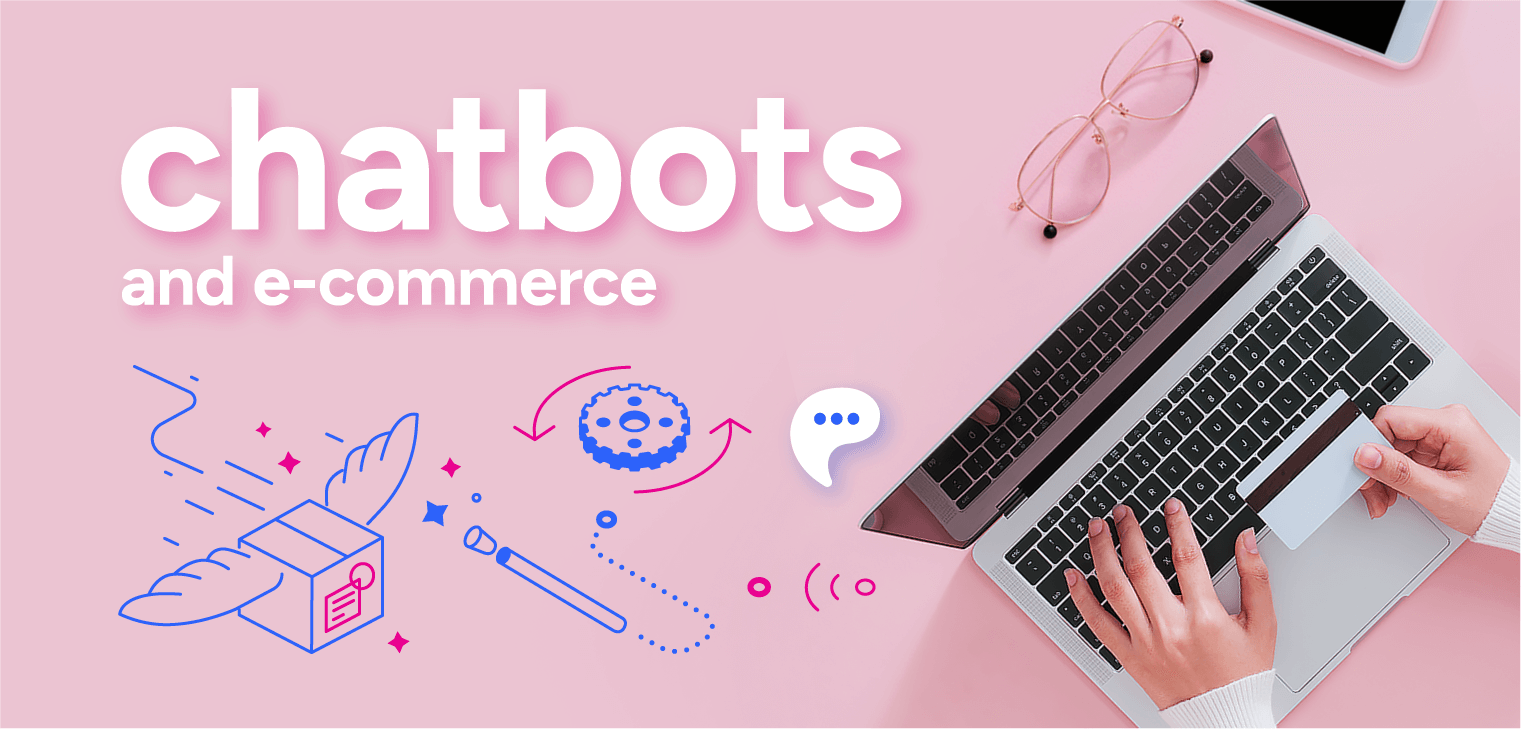 All
How an e-commerce chatbot can boost sales for your company
Customer experience and sales are two key ingredients that make e-commerce businesses work. The main challenges in the e-commerce sector are building a sizable customer base, gaining their trust and retaining them. It is truly difficult to provide satisfying customer service. That's why implementing an e-commerce chatbot on a company's website helps online stores increase profits.
In this article you will find:
The characteristic of e-commerce chatbots
E-commerce chatbots are typically designed to complete customers' purchases, offer product recommendations, or provide customer support. They can be used for almost everything – booking a ticket, tracking a delivery, ordering food, providing personalized recommendations, and much more. They can be implemented as a standalone functionality on the website or as a part of most existing messaging apps, such as Messenger, WhatsApp, and various e-commerce platforms.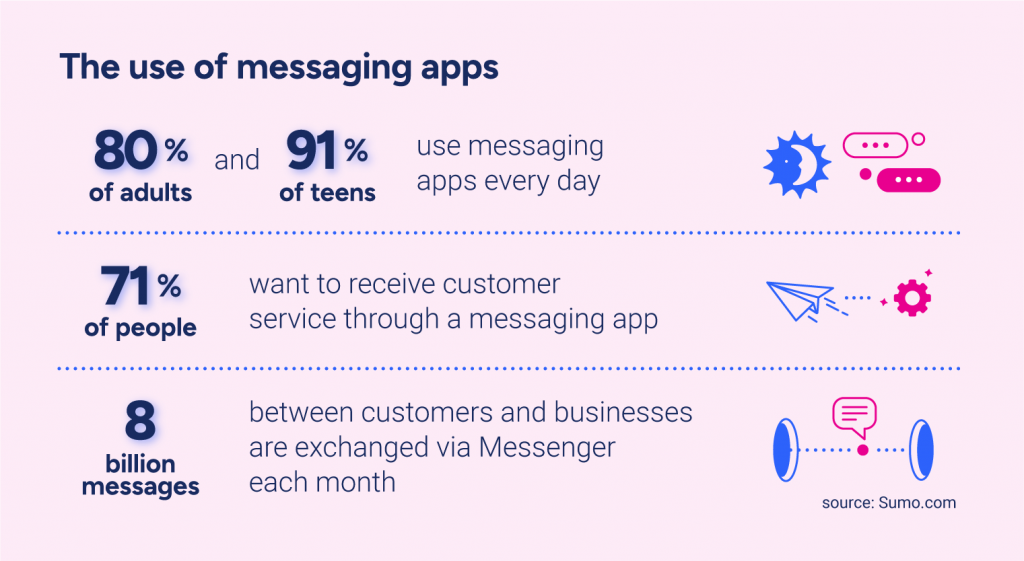 Conversational e-commerce chatbots are just what companies need. There are three key factors that speak for their implementation:
Increase in usage of messaging apps – According to a Business Insider report, since 2015, consumers have been using messaging apps (Messenger, WhatsApp, WeChat, Viber) more frequently than social networks (Facebook, Twitter, Instagram, and LinkedIn). Using chatbots makes companies more visible and provides customers with more purchase opportunities.
Customers are more willing to shop with a bot – Customers became more and more interested in shopping with retailer bots. Most of them believe chatbots are a way to interact with businesses. Adopting a messaging app meets the increasing demand for such a communication method.
More and more companies are implementing chatbots – Ecommerce is a competitive space; that's why staying ahead is so important. Most companies implement chatbots to improve their overall customer experience in the long term. Adding messaging app allows for customer support that is efficient and personal and also prevents companies from falling behind competitors' levels of service.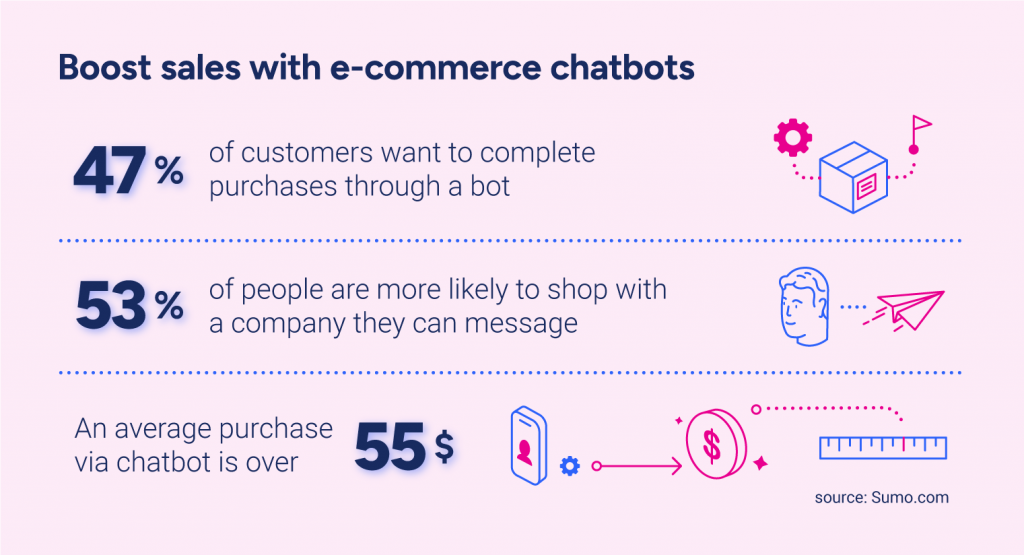 A few use cases showing the need for e-commerce chatbots in business
Well-designed chatbots positively impact customer experience. Websites on which chatbots are implemented are often those with the greatest user experience and ease of interaction. Let's see how to make use of e-commerce chatbots.
Product recommendation
Recommending products based on customer preferences allows retailers to learn more about them and their shopping patterns while also increasing engagement and making upsells.
Aerie, a women's intimates' retailer, uses an e-commerce chatbot to offer customers a more personalized shopping experience. Its main function is to suggest items according to customer' preferences. Customers can choose between two options to give a general idea about their preferences. After narrowing down the possibilities, the chatbot makes recommendations according to the customer's unique style preferences.
H&M Facebook Messenger chatbot recommends products based on customer preferences. Customers need to select photos of clothing they like the most. Then, the chatbot analyzes their answers and suggests items that suit a particular style.
Patrón Tequilla launched a robot bartender –Bot-tender as an extension of the Cocktail Lab experience on their website. They want to inspire people to get more creative in creating cocktails with Patrón. Customers had to click a button that reflects their vibe and provide information about what they are looking for in a cocktail via chatbot. 'Mixbotologists' Stephen and David gave them recommendations for tasty cocktails based on the customers' answers.
See how Actionbot recommends products.
Personalized propositions
Providing customers with personalized, on-site search results helps in increasing the conversion rate. Also, bots improve the customer journey by making it smooth and short.
eBay has a virtual shopping assistant called ShopBot. Its main goal is to help customers find the necessary items. Chatbot gathers the product details, including colour, style, and fit, and suggests relevant items. ShopBot can also send a message that reminds bidders 15 minutes before the end of an auction, so they can remember to have a last-minute bid.
Shopbot became very popular among eBay customers. They are three times more likely to use the chatbot features than website search to find products. Moreover, a chatbot learns from each interaction with a customer to improve the overall shopping experience. From a business perspective, it improves retention, engagement and drives conversions.
Order automation
By integrating Facebook Messenger chatbots, restaurants can provide customers with a short and straightforward journey. They are developed for order automation that can significantly increase sales and customer retention.
Pizza Hut was one of the first company which integrated an order automation chatbot with Facebook and Twitter. Thanks to such a solution, customers save time by ordering pizza on their favourite social media platforms.
Customers can also save their favourite pizzas and reorder them the next time. Also, the Pizza Hut chatbot provides customers with latest offers or discounts and answers frequently asked questions. To order a pizza, customers need to like Pizza Hut Facebook page and set up their payment information.
See how Actionbot automates processes.
Lead generation
Toyota's Hong Kong branch, together with Sanuker, created a chatbot that contributed to the marketing success of the then-new vehicle Toyota Sienta. Stella, the chatbot solution, collected customer's preferences from the conversation. Based on those details, customers were assigned to appropriate sales team members on the live chat. The conversations led to brochures enquiries or scheduling test drives.
The results of this action are impressive. The Toyota Sienta campaign chatbot reached 10% CTR, while Hong Kong's average is only 0.6%. Interestingly, as many as 50% of users who completed the "quiz" with the bot were interested in booking an offline test drive.
See how Actionbot generates leads.
How to add value with e-commerce chatbot
Implementing an e-commerce chatbot on the company's website offers lots of benefits. They not only save up lots of time, both for employees and the customers, they can also increase the company's revenue at a relatively low cost. But these are not the only benefits of such solutions.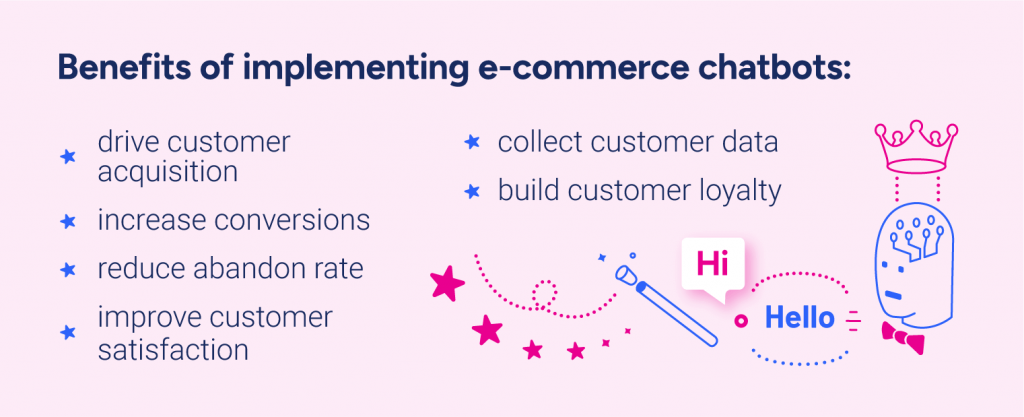 Drive customer acquisition
Social networks are a great channel for gaining new customers. 30% of customers prefer making purchases through Facebook, Twitter, and Instagram. 85% of social media purchases come from Facebook, which makes it the leader. Currently, there are over 100,000 Facebook Messenger chatbots. They can recommend products, process orders, or collect customer data.
Instead of going to an online store and searching for products, customers send a message through the business page on Facebook. The chatbot would ask all about the product and then send a link with this product. A chatbot bot decreases the number of steps the customer takes in the sales funnel and improves the overall experience.
Increase conversions
Businesses need to increase profit. With e-commerce chatbots, improving conversion rates is truly easy. Integration of chatbot on website, app, or Facebook page, allows for a quick push of customers down the sales funnel to encourage them to make a purchase.
Moreover, they offer a new cross- and up-selling possibilities. Online retailers use chatbots to offer customers relevant items based on their past purchases. Companies that engage with customers through chatbots can influence their purchase decisions and increase average order value.
Reduce the abandonment rate
The checkout process that lasts too long is one of the reasons customers abandon their carts. According to an online study, about 23% of customers will abandon carts if they need to register an account. By integrating a chatbot into an online store, the process becomes shorter, reducing the number of abandoned shopping carts.

Remarketing is another idea of how chatbots deal with abandoned carts. If a customer added some products to the shopping cart and then left without finishing the checkout, a chatbot can send a reminder about uncompleted purchases.
Improve customer satisfaction
Providing 24/7 customer support is another benefit of implementing e-commerce chatbots. Customers would no longer have to wait for an agent to pick up the call or scroll endless FAQ sections. Moreover, with chatbots, companies eliminate the human factor. As we know, humans react based on their emotions and mood. That way, online shop representative would always be in a good mood and talk to customers in an appropriate way.
According to a Chatbots Magazine report, chatbots reduce customer support costs by 29%. Chatbots can answer most of the questions and redirect customers to service staff only to handle complicated situations.

Collect customer data
Gathering data about customers is a priority in today's world. With proper analysis, companies can understand their customers better. For many online retailers, chatbots are automated touchpoints on the website.
AI learns from the customer data and uses it for the benefit of e-commerce chatbots. Companies can use this data to enhance customers' service in the future. Storing purchase histories could also help personalize the shopping experience and target relevant products according to previous purchases and customer behaviour.
Build customer loyalty
To have a successful online business, companies not only acquire customers but also retain them. Keeping customers satisfied with services is the most effective way to build customer loyalty. In this case, chatbots might be helpful. By providing customers with personalized conversations and smoothing engagement, chatbots are a great tool to make customers stay for longer.