Hi, it's magic!
Would you like to see our AI chatbot in action? Try Actionbot!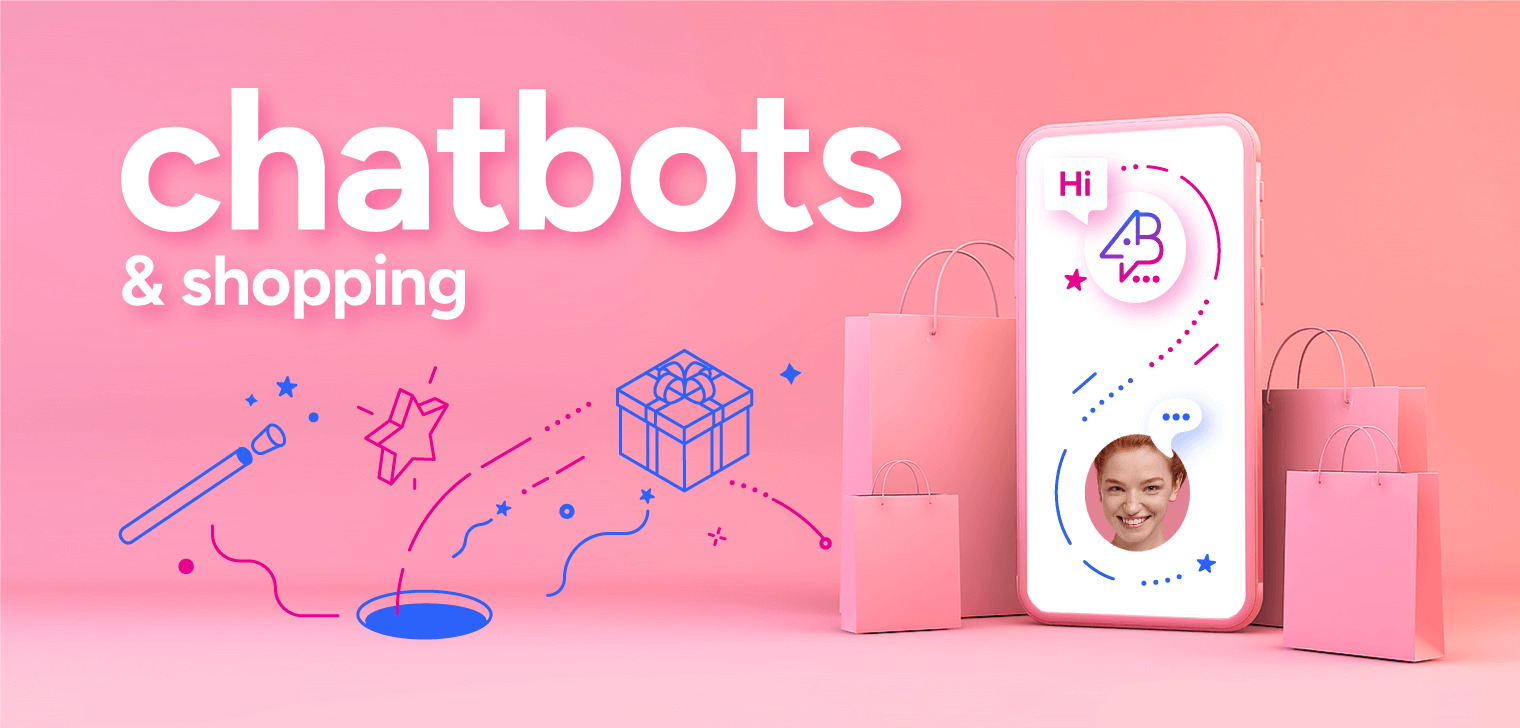 All
Amplifying e-commerce marketing with the help of a shopping bot
There are many ways to improve the website's performance. Some companies may have ignored the growth of artificial intelligence so far. But AI solutions, such as chatbots, can bring valuable benefits to e-commerce. So, while experts discuss if artificial intelligence will completely replace humans in various jobs, we want to show how marketers can use a shopping bot to improve their businesses.
A quick introduction to shopping bots
Chatbots are revolutionizing online shopping by creating better buying experiences for consumers and meeting customers where they already are online. With guided shopping chatbots, e-commerce merchants can create personalized brand experiences that convert new customers at scale.

A shopping bot is quite similar to a typical chatbot in many ways. However, the main difference is that they can provide product suggestions, offer discounts or even provide tracking information. In addition, bots do what humans cannot — tirelessly search the internet to find the best offer, adjusted to customer's needs.
Shopping bots have many benefits. They support the customer faster than any human expert, don't require lengthy checkouts, and provide customers with a multitude of personalized recommendations that suit each consumer's preferences. And it's all in one place! Shopping bots can generate profits without requiring real human interaction. Such bots can easily assist in the buyer's journey with a feel of a personal touch.
If you want to learn more about the use of chatbots in e-commerce, read one of our previous posts.
How shopping bot improves e-commerce marketing?
Competition in e-commerce is consistently growing. That's why it is important to find a way to make a company stand out. Bringing a spotlight and maintaining a business position often becomes complicated. Online businesses are required to leverage tools to boost their sales, and shopping bots can be what they are looking for.
Better interaction with customers
Through the use of AI, shopping bot can recognize the needs of consumers and initiate personalized conversations. Therefore, it's essential to have a system that can recognize your customer's unique set of intents and respond relevantly. Additionally, bots can suggest other products that the customer may like, guide users through complex catalogues or inform them when unavailable items are back in stock.

Customers want a reply instantly; however, it is not easy to do if agents work only a certain number of hours per day. On top of that, if a store operates worldwide, the time zone difference becomes an issue. This is where the shopping bot step in as customer support— it is available 24/7 and immediately assists every customer.
Reduce abandoned carts
A guided chatbot can boost sales tremendously, but it won't convert every customer who interacts with it each time. Not every customer is willing to make a purchase during the first visit to the website. Others can get distracted or lose interest along the way.

A shopping bot can bring back customers who abandon carts through personalized messages. It can offer encouragements such as discounts to customers who ditch shopping due to the product's price. However, their mission does not end here. They can also send reminders to the visitors about recently viewed items and encourage them to finalize the purchase. On top of that, bots can send product recommendations depending on visitors' browsing history. Whenever customers are about to leave the website with things in their cart, shopping bots can send them reminders to complete a purchase. Complicated marketing analysis? Not anymore – bots are here to help!
Elevate more revenue for products
Shopping with chatbots can also be more profitable. With the recommendation they provide, the whole customers' journey can become more pleasant. During the conversation, they can provide products or services recommendations that make the entire shopping process easier. That's because the qualified lead doesn't have to go through the shopping process from the start.

Chatbots can also upsell or cross-sell products to help the business close a more successful sale. For instance, if the customer has purchased sports shoes, an upsell product chatbot can show a series of sports t-shirts and caps. Thus, companies can leverage upselling and cross-selling strategies with a shopping bot.
Increase retention rate
In the e-commerce business, retaining existing customers is equally important as acquiring new ones. Old customers always tend to convert as compared to new leads because they understand and trust the familiar business. Chatbots provide support whenever customers need it and try to solve every query in the minimum possible time. This simply makes customers gratified.
This flexibility of the shopping bot improves the customer experience on the website. And this increases the probability to retain the same customer again without much effort.
Guide customer into the sales funnel
Each company probably links their social media channels to their website, but it's not enough. By leading traffic to the site, companies are leaving potential customers to browse on their own. As a result, they can get distracted and end their session prematurely.

A chatbot can engage customers by offering a personalized shopping experience right on the channels and apps they spend their time with. By guiding a visitor, suggesting products and replying to any questions or comments, a shopping bot can enhance customer interactions and use conversation to drive purchases. Additionally, it can reach out to customers in the future for re-engagement.
A shopping bot can help e-commerce marketing collect visitors' contact, demographic, or behaviour data and let them enter into the sales funnel. As a result, the sales team can concentrate on the qualified leads that are ready to pay and enter into your clientele. Chatbots can revolutionize online retail by optimizing a store's entire sales funnel.
Actionbot – a shopping bot that improves marketing strategy
Our innovative shopping bot helps companies in their marketing strategy and provides in-depth analytics on performance and customers engagement. With the help of artificial intelligence, Actionbot gets smarter over time and will transform the sales funnel into a natural conversation by answering complex customer queries. As a result, it will assist customers and inspire them to make a purchase. Try one of our use cases to see how Actionbot can become the best product advisor.