Hi, it's magic!
Would you like to see our AI chatbot in action? Try Actionbot!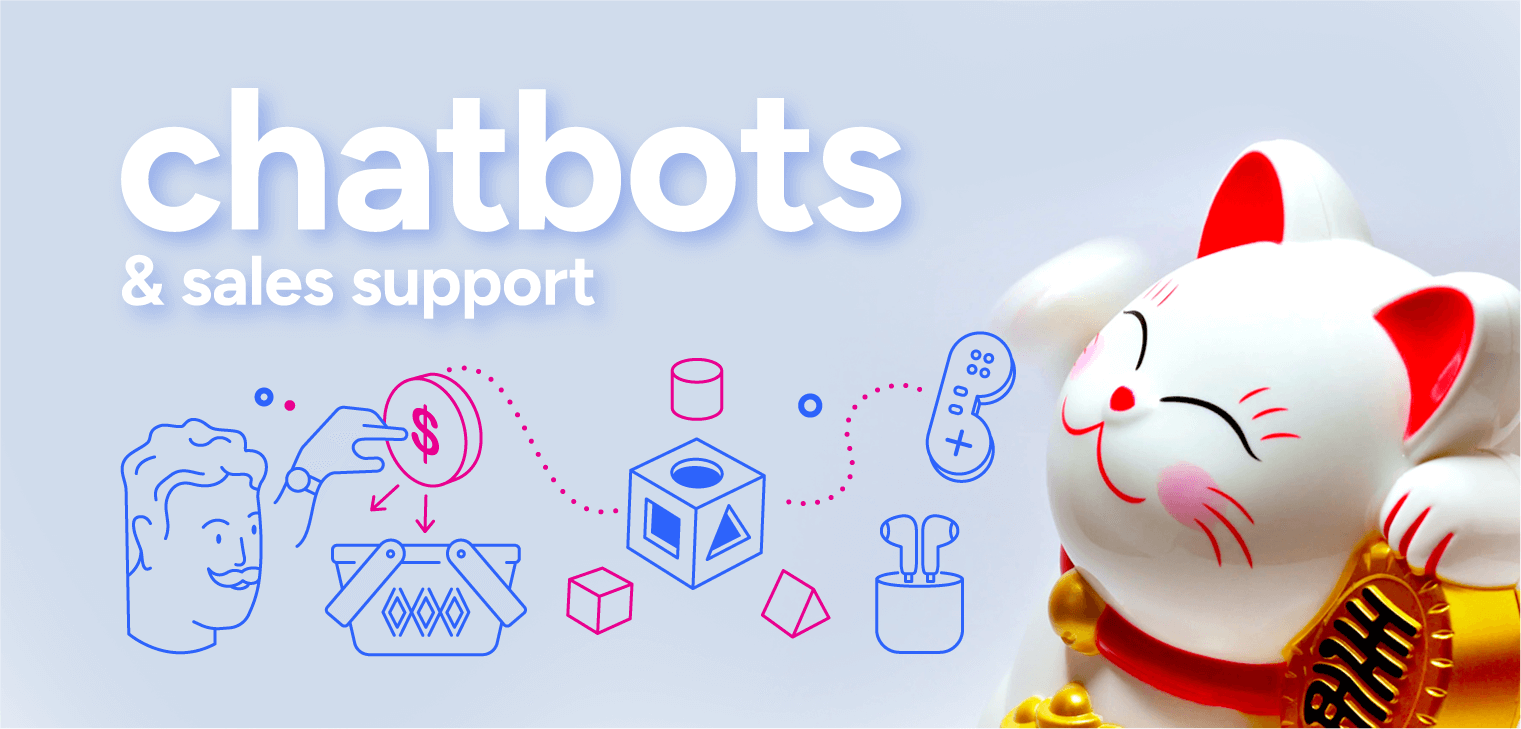 All
Chatbot for sales – using automation to increase the sales process
Nowadays, the importance of ensuring the perfect customer experience is not to be overlooked. With the growth of technology, customers are demanding something more, expecting companies to understand their needs and act accordingly. Fortunately, the popularity of AI chatbots made things easier and companies implementing such solutions ensure the best customer service. Yet, accomplishing a competitive advantage in the market by closing more deals and increasing revenue demands a dedicated solution — and a chatbot for sales answers to these needs.
Introducing – chatbot for sales
Chatbots for sales are AI-powered bots that help increase sales representatives' productivity and effectiveness. From automating the entire sales process to assisting employees with tedious tasks, sales chatbots definitely help generate leads and increase conversion.
Moreover, they use AI and machine learning technology to collect data, analyze it, and make informed decisions based on it (for example, during interactions with customers). These functionalities allow for personalized recommendations based on previous purchasing, adjusted to that individual customer.
Main benefits that chatbot for sales can bring to your business
Online sales are not only about attracting new customers but also about keeping the existing ones by increasing their satisfaction with your services. It can be done especially by understanding customers' needs and providing the best possible support. Customer service teams are here to accomplish that, but there is a way to assist them in their daily tasks.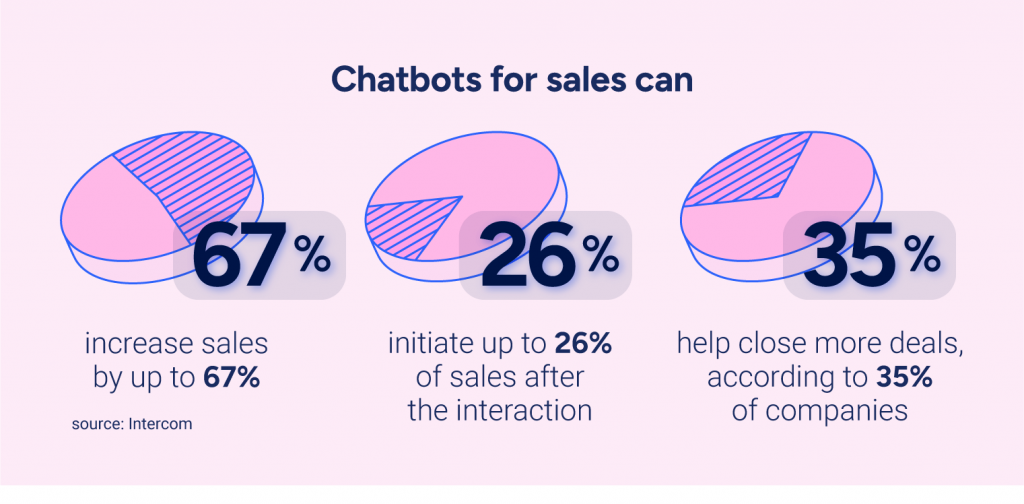 Using a chatbot in your business streamlines and automates the process of supporting customers. They can retain your present customers, increase their trust in your product and stop potential customers from choosing the competition.
But that's only part of what they can bring to your business. So, let's focus on the main benefits of implementing AI chatbots for sales within the company.
Supporting customers online
Customer service is a crucial element in today's business that's always needed. It's impossible to achieve a 24/7 online presence only with the support team. Using a chatbot for sales guarantees that customers always get the help they seek. AI chatbots are always online, reducing waiting times to zero and handling queries whenever needed. They can handle conversations in various languages, make them more personalized and collect feedback to improve themselves after each interaction.
It is also a perfect way to gain customers' trust and increase their satisfaction. It means they will be more willing to stay with the businesses in the future instead of choosing the competition.
Generating leads with ease
Chatbots for sales can capture leads from different channels and simplify them with proactive communication. If used appropriately, they have the potential to bring in high-intent leads. Businesses can use AI chatbots to target customers on their websites easily. With their conversational skills, chatbots can engage visitors who are most likely to bounce off.
How AI chatbots can help in generating more leads? Find out by reading our article about lead generation chatbots
Recommending products
Providing personalized product recommendations is not only for engaging customers but also for increasing the chances of closing the sales deal. AI chatbot for sales can truly help with that. By gathering data about customers' preferences, purchasing history, or browsing patterns, they can send them offers that are more adjusted to individual needs. Also, when customers forget about the items from their cart or change their minds, the chatbot sends them a reminder encouraging them to complete the purchase.
Reducing the possibility of human error
Chatbots for sales can also almost completely reduce human errors. By their 24/7 online availability, conversational skills, and automation of problem-solving processes, they are the perfect assistants – they won't forget about replying to a message, they won't mix up queries, or they won't be affected by even the most unpleasant conversations.
Another benefit is directed to customer service representatives, as they get to avoid dealing with repetitive daily tasks and focus on other essential duties. Also, they won't have to deal with demanding customers, and, respectively, customers could ease their frustrations with a chatbot. This allows employees to work more efficiently while also keeping customers satisfied.
Optimizing costs by automating processes
Using chatbots also helps in optimizing costs, mainly because of automation. Thanks to such a feature, they can complete many tasks simultaneously. Although chatbots won't be able to completely take over the customer service department, they can significantly save money by reducing the number of needed employees.
Automation also allows convenient scalability of support operations. Chatbots can handle thousands of conversations at the same time and answer each question correctly. Instead of training and recruiting new employees, they are taking care of it, being cost-reductive at the same time.
Best tips on creating a successful chatbot for sales
Designing a great chatbot for sales is an important process. If done right, it can bring all the benefits for businesses. It needs to work and look good because we all know that first impressions matter. A pleasant-looking interface, personalized communications, and compelling dialogues – these are all the little things that impact customers' decisions and bring their attention to the product.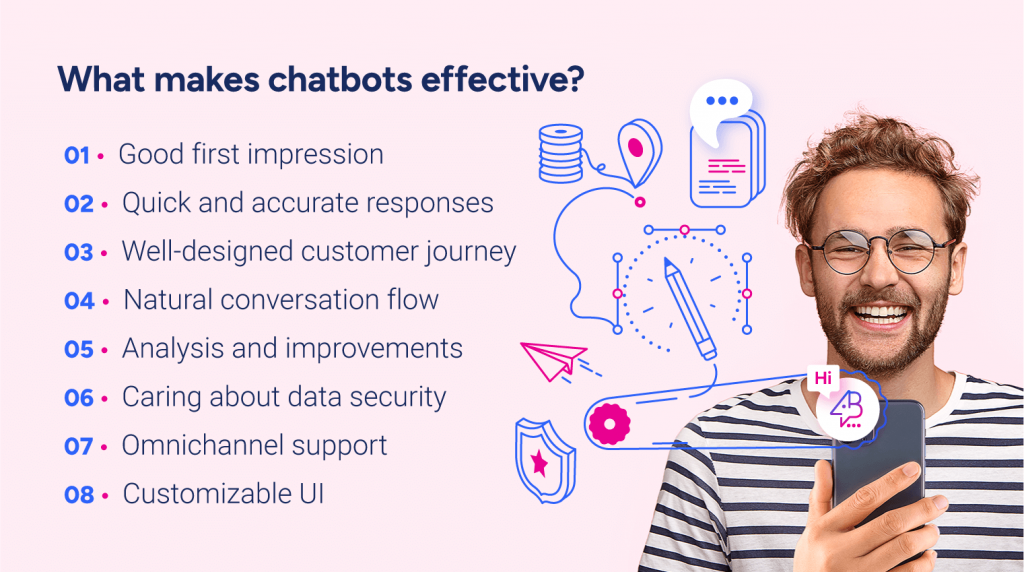 Here are a few tips for creating a successful chatbot that works both for customers and companies:
Take care of the first impression – engage customers by welcoming them with personalized messages and creating scripts and automated responses that target them (both new and current visitors).
Respond quickly and accurately – design a chatbot that proactively answers frequently asked questions with scheduled responses, which reduces the response time and increases customer engagement.
Direct users down the right path – plan a set of rules that automatically directs customers to the right team, such as accounts or sales, which results in capturing qualified leads and conversions.
Don't sound too robotic – create scripts of conversations that imitate human-like interactions based on the data collected to understand customer behaviour.
Analyze the collected data and improve your chatbot – gather various data about customers, analyze it and use it to further improvements that provide a great digital experience.
Remember about data privacy and security – make sure that the chatbot operates in line with security and privacy regulations that prevent personal data breaches, such as, for example, end-to-end encryption or user authentication.
Provide omnichannel support – ensure that the chatbot can capture leads from other communication channels, which can improve sales and marketing strategies.
Allow for easy UI customization – enable the option to modify the chatbot based on the company's tone, visual or customer preferences.
If you want to know what the Actionbot's design process looked like, read our thorough article on best practices for creating engaging UI.
Increase your revenue with the right AI chatbot for sales
Designing and customizing a chatbot to suit both your and your customers' needs is crucial in ensuring a delightful digital experience. If it supports extra features – like various integrations, full customization, or omnichannel assistance – that's a big win!
Actionbot is the best solution if you need an AI chatbot for sales that can automate customer service and lead a smooth conversation. Our implementation for the premier supplier of car parking solutions in the GCC region proves that it helped streamline the way customers get the support they need, providing personalized assistance and offers.
We also encourage you to check the examples of how Actionbot works as a lead generation chatbot. It identifies customers' needs, understands them, and walks them through the sales funnel right to the final purchase.
If you want to know more about Actionbot, make sure to contact us.