Hi, it's magic!
Would you like to see our AI chatbot in action? Try Actionbot!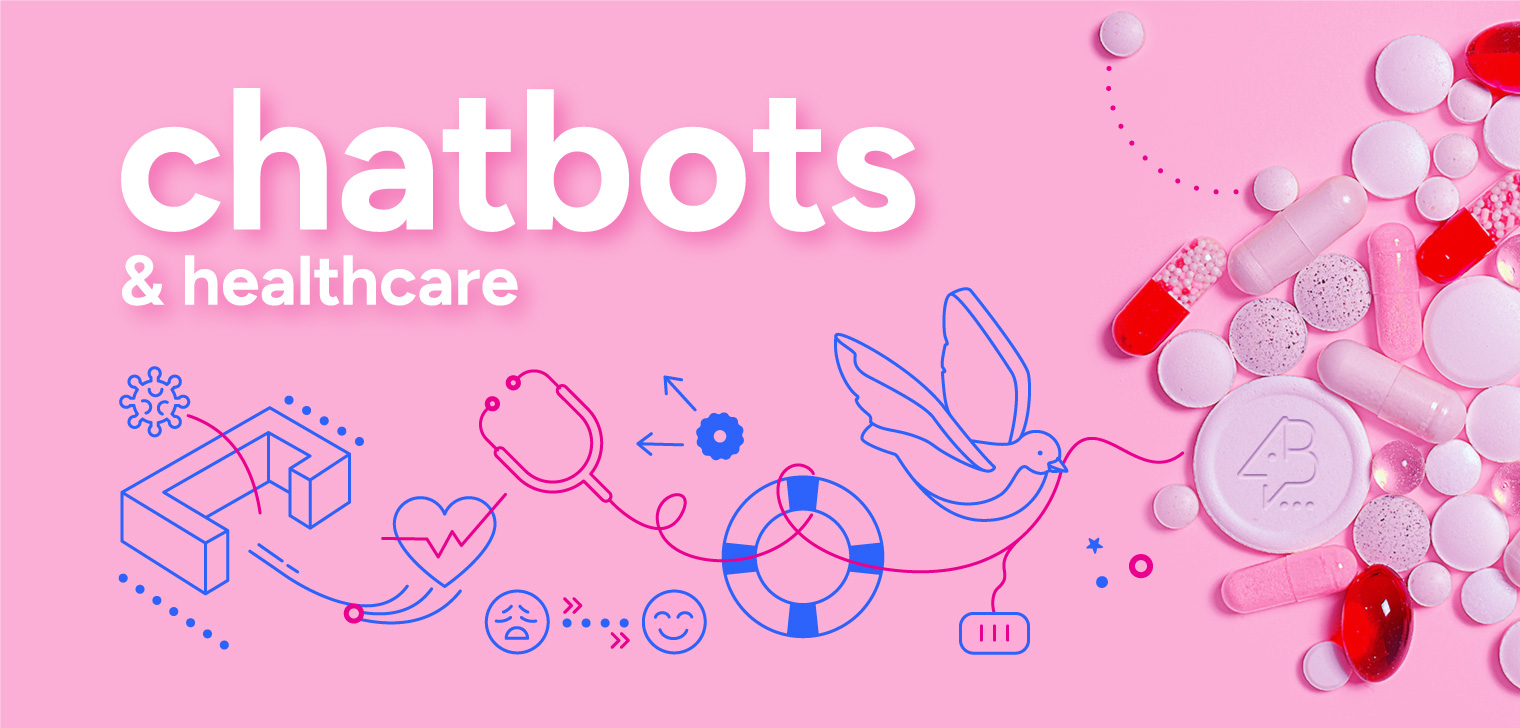 Recommended
How do chatbots in healthcare benefit the public sector?
The healthcare industry has been rapidly changing and advancing in technology over the years. Artificial Intelligence (AI) and Natural Language Processing (NLP) are just one of the few innovations in the healthcare sector. Many hospitals, labs, pharmacies, and even nursing homes have begun incorporating AI-powered conversational chatbots into their workflows. Read our article to discover how chatbots in healthcare are supporting the public sector.
What are chatbots in healthcare?
Healthcare chatbots are AI-powered tools capable of efficiently handling simple inquiries and providing a convenient way for patients to get information. In many cases, they also ensure more personal interactions with healthcare services than browsing a website or communicating with a call center.

The main characteristics of chatbots in healthcare are:
Bigger efficiency of healthcare services by reducing the workload of the staff.
Personalized patient service which can help in providing better recommendations for medicines or exercises based on the patient's medical history.
Better accessibility that makes healthcare services more accessible to people, including patients with disabilities and those living in remote areas.
Providing an innovative way of engaging patients with healthcare providers, leading to advancements in online healthcare and telemedicine.
Cost-effectiveness that automates routine tasks like scheduling appointments or capturing patient data, decreasing healthcare costs by a lot.
Benefits of chatbots in healthcare
Chatbots can provide a consistent and always available source of interaction between patients and the healthcare system. The anonymity associated with these chats gives patients confidence to share personal information, especially in mental healthcare.
Let's see the main benefits of implementing chatbots in the healthcare sector.
Availability and instant help
In healthcare, where many health crises can occur unexpectedly, every second counts. Chatbots are there to help by providing quick and helpful assistance. They can also assist doctors by giving them a medical history and other important details about a patient with a medical emergency.
Apart from emergencies, they immediately answer questions about illness, medications, and common occurrences during a chronic condition. That helps evaluate how a patient is doing during an appointment, which can also be scheduled with the chatbot's assistance.
Personalized care
Chatbots are especially useful for answering medical questions asked by anxious patients or their caregivers and inquiries that don't require highly trained medical professionals to answer. They can save time for patients and healthcare professionals while instantly giving helpful information.
Also, chatbots in healthcare provide patients with personalized information, guidance through their conditions, predictions for diagnoses, or medicine recommendations. This delivers a seamless and efficient experience for patients seeking medical attention online.
Improved patient engagement
Chatbots can simultaneously engage and assist multiple customers without compromising the quality of interactions. They can also enable patients to connect with professionals through online consultations, which increases their engagement.
Also, by allowing patients to get instant answers, providing simplified appointments, and following up on patients after the visit, chatbots in healthcare give medical specialists more time to focus on those who require their attention the most.
Cost-effectiveness and efficiency
By automating routine tasks such as scheduling appointments, reminding about medications, or doing routine diagnostics, chatbots can significantly reduce healthcare services costs.
They can also increase the efficiency in public hospitals with the more accurate tracking and handling of information, the reduced risk of errors, and the ability to use data to predict the outcome. Chatbots also automate some aspects of clinical decision-making by developing protocols based on data analysis.
Accuracy and consistency
One of the main assets of chatbots in healthcare is that they can focus on knowledge gathered from large datasets, such as scans. This varies from the traditional chatbot interactions with people in real-time, using probabilistic scenarios to give the best recommendations. Patients can be sure they will get accurate and up-to-date information from chatbots, which are essential for making informed healthcare decisions.
Main use cases of healthcare chatbots
We've already mentioned the main benefits of using chatbots in healthcare, but here are some examples of their applications in the sector.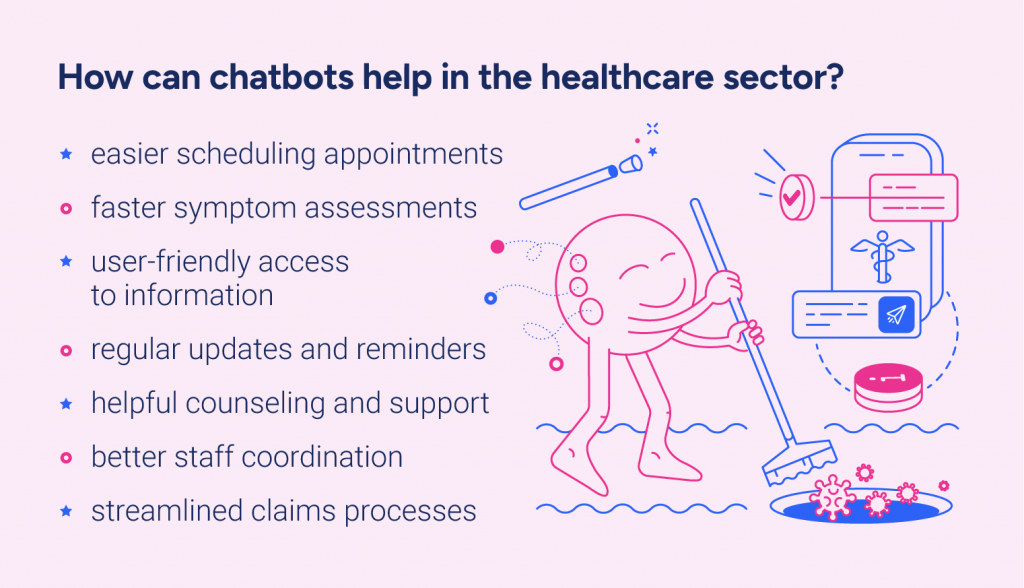 Scheduling appointments
Managing appointments is one of the more engaging tasks in the healthcare sector. Although scheduling systems are in use, many patients still need help navigating the systems, as some tools lack flexibility and are not really user-friendly.
Chatbots with a well-designed interface are easy to use and can schedule appointments based on the doctor's availability. Sometimes, they can also interact with CRM systems to help staff track scheduled visits and follow-up appointments for a particular patient while keeping their data for future reference.
Symptom assessment
The chatbot can ask relevant questions and understand the patient's symptoms, which can help identify each medical condition. It's especially important while dealing with high-risk patients that need to be directed to the specialists immediately.
With the help of the healthcare chatbots, patients can quickly assess symptoms and determine their severity. They can also provide an estimated diagnosis and suggest possible treatments. It gives a warm and reassuring customer experience from the beginning of the patient's journey.
Chatbots remember individual patient details, which allows them to skip the need to re-enter their health data each time they want an update. This feature lets patients check symptoms, measure their severity, and receive hassle-free personalized advice.
Easy access to patient information
Each visit can result in questions about medications, diet, or sleep routines. These questions are important, but they may be answered without a specialist. Chatbots in healthcare can walk the patient through the specified procedures, give information about what to expect, and send notifications about the need for contact with the doctor. They also remember conversations and can personalise answers to the nature of the patient's medical history.
Updates and reminders
Chatbots can seamlessly ensure that patients keep track of their lab results, medical appointments or taking their medications on time. They can also assist in locating nearby testing centers, labs, or hospitals. As some medical reports are associated with a sense of urgency, an instant response by a chatbot can make a big difference to the patient, and the whole experience is enhanced while reducing administrative costs.
Counseling and mental health support
The non-human nature of chatbots provides a sense of security to patients regarding sensitive subjects. Chatbots offer a listening character that has proven therapeutic for people in mental distress. With Natural Language Processing (NLP) training, they can increase a doctor's work with context-based responses.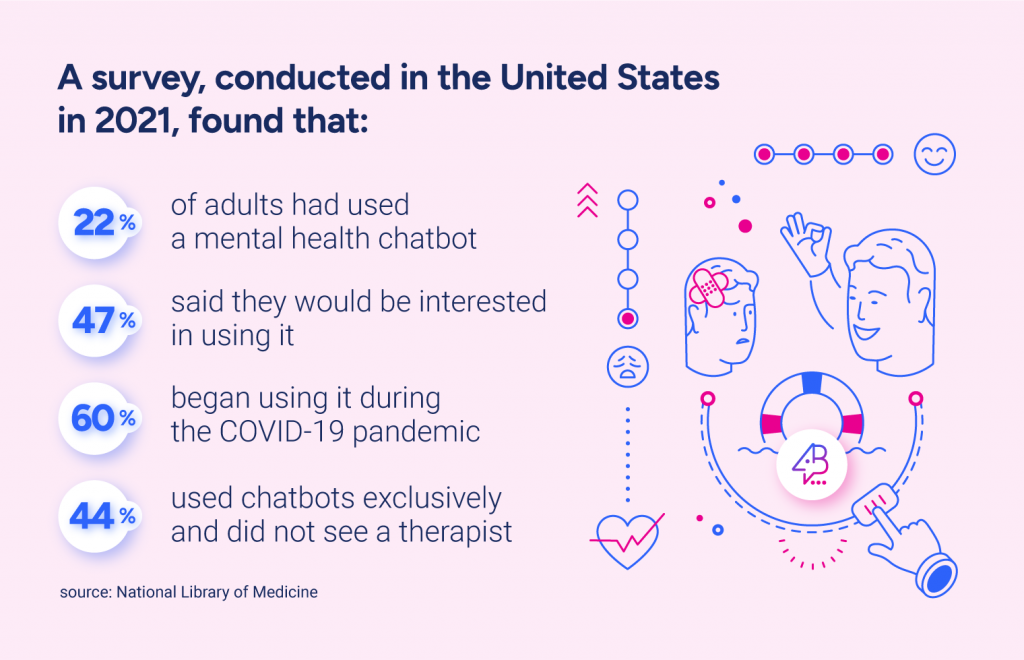 Chatbots in healthcare can also be designed to support patients struggling with mental health. These chatbots are not meant to replace mental health professionals but to complement their work. They can also be used to practice cognitive behavioral therapy.
Staff coordination
Hospital staff can also benefit from healthcare chatbots, as they can be used, for example, for internal record-keeping of hospital equipment. The chatbot fetches the data from the system, making any information easily available. This automation improves team coordination while at the same time decreasing various delays and errors.
Chatbots can also access patient information, significantly reducing the time staff spend searching for updates in the patient information system. As the chatbot understands context and knows who the patient is, it can report specific information quickly and accurately.
Streamlining coverage and claims processes
Chatbots in healthcare can also streamline the medical claims process, saving patients from dealing with paperwork and complex procedures. Thanks to their ability to understand natural language, healthcare chatbots can assist with filing claims, checking existing coverage, and tracking the status of each claim. This gives patients easy access to important information and helps them avoid repetitive queries to the healthcare staff.
Doctors can also use healthcare chatbots to access patient information and queries, allowing them to quickly authorize billing payments and other requests from patients or authorities.
Chatbot for the public sector – Actionbot for the Ministry of Health in Oman
During COVID-19, the Ministry of Health in Oman wanted to give the citizens easy access to valuable information. In need of a quick and agile solution, we used Actionbot to automate information exchange between healthcare institutions and citizens during the pandemic.
Our AI chatbot answered the most common questions about the virus and the required safety measures and provided real-time information regarding public statistics of COVID-19 cases. Not only did we create a working healthcare chatbot for the public sector in such a short time, but we did it completely pro bono.
Learn more about our implementation for the healthcare sector in Oman. Read our detailed case study.
What's next?
Chatbots in healthcare can never fully replace human doctors, but they can serve as consultants and assist patients with their health concerns. This will help doctors and healthcare professionals to focus on more complex tasks. That's why the future of these AI-based solutions looks really promising. They are likely to play a significant role in the healthcare industry, being the perfect combination of thorough human assistance and innovative technology. It will enable healthcare centers to increase efficiency and provide better patient care.
Do you want to try Actionbot as a healthcare chatbot? Contact us here!