Hi, it's magic!
Would you like to see our AI chatbot in action? Try Actionbot!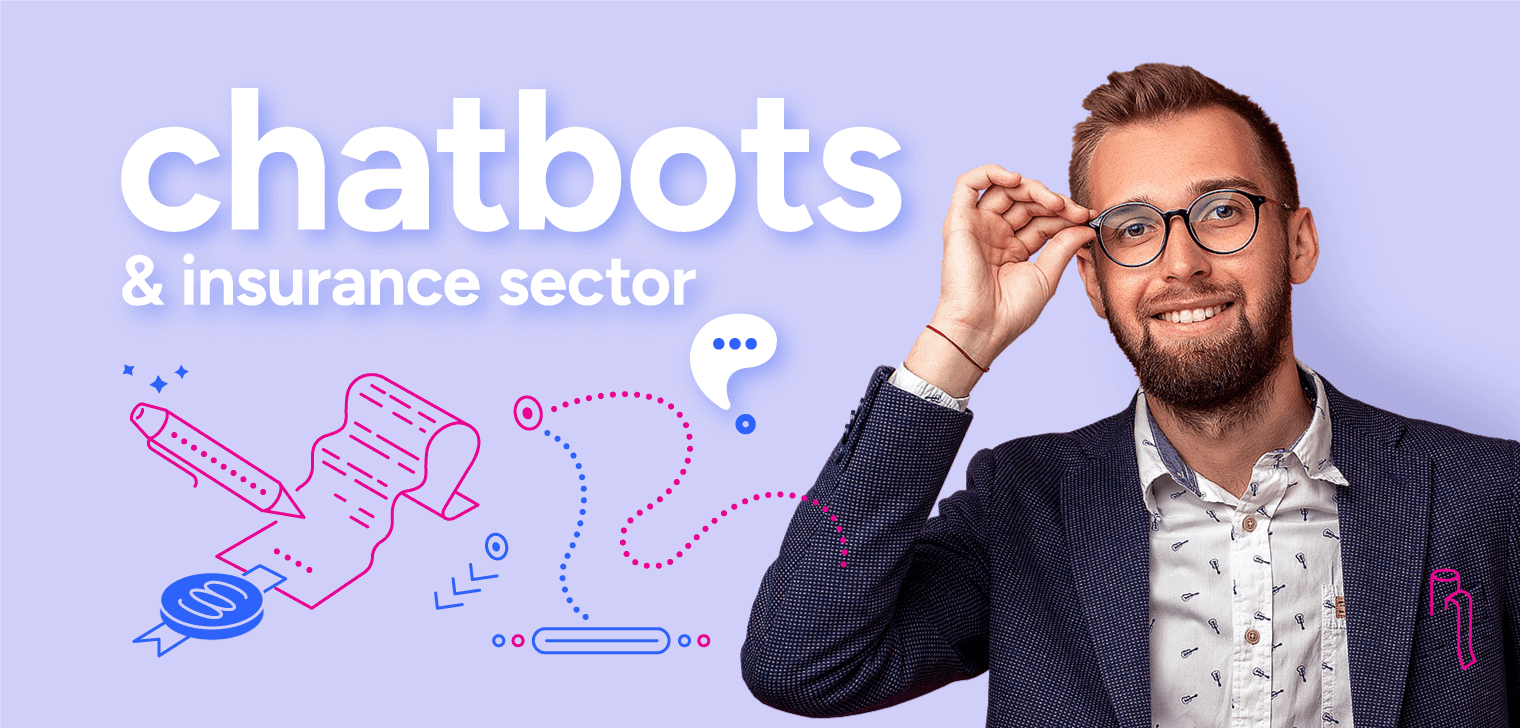 All
Insurance chatbots bring automation and customer experience to the next level
With the rapid advancement in digitalization, the insurance industry faces various challenges, especially those related to efficient communication with customers. A growing number of insurance providers grant quick access to their products through digital channels, and more and more customers joyfully benefit from the possibility. That's why the insurance industry needs to find sophisticated ways to enrich the relationship between policyholders and providers. Insurance chatbots can become a quick and reliable answer to that.
Insurance chatbots support the industry
Traditional insurance business model has been remarkably resilient to changes, but it's finally beginning to embrace the digital effect. Digitization and digital transformation are changing how products and services are delivered. Insurance companies should use the opportunities that lie in digital transformation. Those companies that move swiftly and decisively towards innovation are more likely to be the ones that flourish. Those that resist change will find it challenging to stay in the game.

The COVID-19 pandemic was a push that has forced most insurance companies to accelerate the shift to digitalization and full automation. Insurers turn to automated digital solutions to stay profitable as they battle stringent regulatory norms while managing complex portfolios in a persistently low-interest-rate environment. Insurance chatbots became quick and reliable solutions, and the first step into full automation.

They have established themselves as the best option to improve customers' experience while reducing operational costs. Insurance chatbots allow customers to quickly and efficiently manage their claims while also providing actionable insights to understand customers' preferences further. These insights allow insurance companies to deliver personalized services and suggest better products, adjusted to customers' needs. Insurance chatbots offer more efficient customer service, with fewer risks for human errors and more significant savings in operational costs.
If you want to see how insurance chatbots work, watch our Actionbot demo, showing the latest implementation.
Actionbot for Generali – our implementation of the insurance chatbot
Our implementation is a successful example of an insurance chatbot use case. We implemented Actionbot for Generali Poland, a part of one of the largest insurance and asset management group.
Generali asked us to test Actionbot to achieve below goals:
Improve communication with customers,
Automate processes (FAQ automation, claim processing, choosing the insurance policy, etc.),
Decrease the number of calls to call centre and conversation with the consultants on the chat,
Reduce traffic on the website's chat with consultants.
It only took us around a month to take Generali's ideas and turn them into a proof of concept on their website. Actionbot's functionalities were mostly related to customer care. The first step of its implementation was answering FAQs, especially those about new products and services, claim processing, and policy management. With more complicated inquires, Actionbot directed the customer to the agent for a quick and seamless resolution. All this to enhance an excellent customer experience.
Achieved KPIs
Actionbot's dialogue has been designed to meet customers' needs. Customers can simply open the chat window, ask a question and receive an answer immediately. If the question is complex, the bot automatically directs the conversation to a consultant.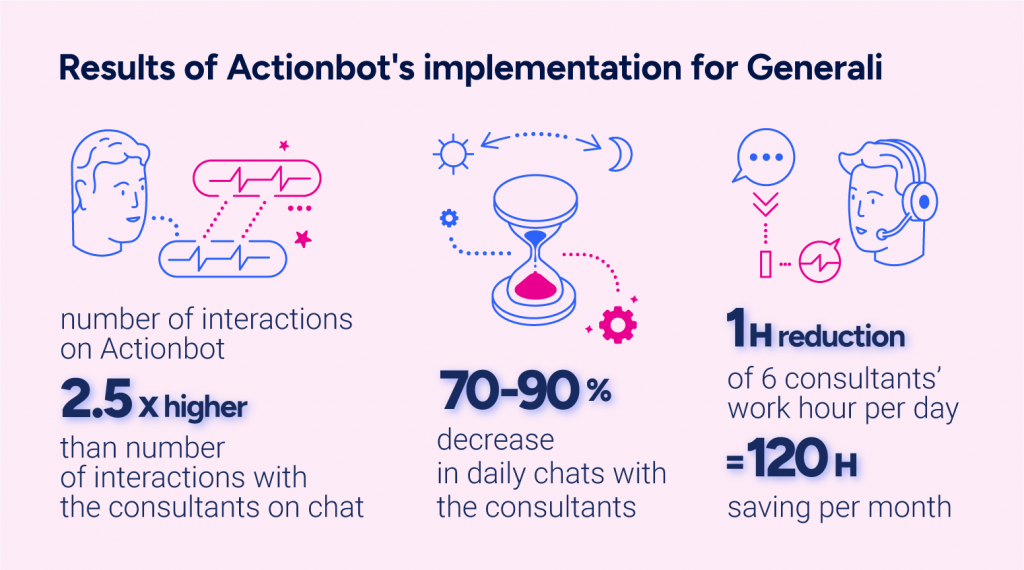 One month after the deployment, the number of interactions with the chatbot was 2,5x higher than the number of interactions with the consultants before. Earlier, consultants had 70-90 calls every day; now our insurance chatbot has 150-200 daily interactions with customers. At the same time, Actionbot's implementation decreased the number of chats with consultants to 5-20 daily.
After a month of decrease in the number of chats with consultants, the customer service decided to shorten their work hours by 1 hour per day. The company decided to direct consultants' knowledge and expertise into more complex inquiries. It was the first step in increasing their efficiency, saving 120 hours per month.
A few other insurance chatbot use cases
Digital assistants can be used in various ways to help customers. Here we have a few insurance chatbots use cases that prove their worth.
Automated claim processing
Each innovation that could speed up the claims processing is essential for the insurance sector. That's why it's so important to implement insurance chatbots that automate the whole process. Human expertise will still be necessary with more complex or unusual claims, but digital assistants can unburden them from repetitive queries.
They are great support for first notice of loss and damage assessment. Insurance chatbots can provide necessary information on the process, answer most asked questions, verify customers' data, collect information and documents. All the gathered data is passed to an employee to speed up the process.
Insurance chatbots can be programmed and configured to address customers' insurance claims and follow up with them on the existing ones. They can also remind them about upcoming payments and simplify the payment process thanks to the automation in the preferred channel.
Future solutions that offer integration with engines for document analytics allow the chatbot to process claims and give customers a validated decision within a few minutes — all these without human intervention.
How can Actionbot automatically process claims? See for yourself in this demo
Customer assistance
Chatbots can automatically answer the most common questions related to new offers, insurance details, or claim processing. They can also educate customers on how the process works. Answering on FAQs is a good introduction, but comparing or suggesting the optimal policy, from multiple carriers, is what truly makes a difference. Chatbots can do it based on customers' profile and inputs from the conversation.
Automation and integration with external data sources that characterize insurance chatbots allow them to notify the claims company, find the nearest information point, or order preferable services. They also engage and interact with customers on a website or any other channel, which increases conversions.
With most complex queries or tasks, the chatbot can rely on human customer service. However, with AI and NLP tools and integration with companies' back-ends, the digital assistants can accelerate customer service automation and walk the user through the whole process.
Chatbots equipped with language processing capability could replace human interaction with customers in the offering, service renewal, first notice of loss and customer support. Thanks to machine learning techniques and insights gained from the conversation, they can provide a unique, personalized customer experience.
See Actionbot's skills in customer assistance. Try out this customer support demo
Lead generation and conversion
Research shows that if a query is not taken care of within 5 minutes, the chance it can convert into a lead decrease by over 400%. That's why a quick and reliable answer from a chatbot can increase lead conversion.
Based on the information gathered from customers' conversation and inputs, insurance chatbot can provide relevant recommendations. This data can be crucial for the sales team to understand the full context of what a potential customer is looking for. Only then they can proceed accordingly with their sales pitch.
Cognitive agents can now recognize an opportunity to offer extra coverage and forward the call to a human agent or even conduct the conversation themselves. With the gathered data, they can also propose insurance renewal or choose the best insurance offer that perfectly matches customers' needs.
See how Actionbot can generate leads and increase conversion. Check out this lead generation demo
Assist in sales
53% of consumers are more eager to purchase products or services online if they can directly message the company. One of the benefits of insurance chatbots is that it shortens the distance between customers and the company and recognizes and assists in customers' purchase.
Based on conversations, even the first ones, bots can propose products and services adjusted to customers' needs. Also, directing customers to the sales representatives is almost a certain lead.
Chatbots have an open rate that varies from 85% to 98%. That is significantly higher than traditional emails. Also, bots are way cheaper than pay-per-click ads campaigns. Promotional information about new rates, the latest offers, and policy updates send via chatbots to a highly targeted audience can truly boost sale.
See how Actionbot can advise on the next purchase. Try this product advice demo
Benefits of using insurance chatbots
All insurance chatbot use cases, mentioned in this article, prove that automation and improving customer experience are beneficial. But there are other benefits that chatbots can bring to the insurance sector.

Increased efficiency
Insurance chatbots help employees manage their time more efficiently. They address almost all the mundane and time-consuming duties, such as answering repetitive queries or providing necessary information about the services. Insurance chatbots are also reducing overall staffing, onboarding, and training costs.
Chatbots improve efficiency by managing repetitive tasks and addressing the most popular questions. With back-end system integration, they can also gather customer inputs, allowing the understanding of context and reducing repetitive conversations. Integrations also provide outputs immediately, which guarantees an efficient and customized customer experience across all channels.
More sophisticated chatbots can handle entire processes, such as claims processing or policy renewals. This automation allows human resources in marketing, sales and customer service take care of more complex inquiries. They can also focus on higher-value transactions, including those that lead to an increase in revenue.
Enhanced customer experience
Customers became more aware of their needs and how they could be assured. Excellent customer support is what truly matters. With insurance chatbots, they will always be greeted with a 24/7 personal assistant to take care of their insurance-related needs through clear communication.
Intelligent assistants can leverage real-time and behavioural data to provide highly personalized, highly intuitive and highly convenient on-demand experiences that customers desire. They operate within a broader suite of communications and touchpoints (ads, websites, call centres and other channels), so their communication must be harmonious across all channels. Creating a similar voice across all channels helps establish the company's image and create a consistent customer experience.
Intelligent upselling and cross-selling
With each conversation, insurance chatbots are gaining knowledge about customers' needs. All this information is used to propose personalized services and products that each customer will probably purchase. With the help of your automatic assistant, your business can significantly boost sales.
Converging chatbots with AI, RPA and machine learning allows them to generate new methods for acquiring customers, upselling and cross-selling. A fully integrated system can prioritize leads by pulling data insights from marketing, sales and other internal and external data sources. Once a qualified lead list is generated, a chatbot can automatically send intelligent upselling and cross-selling messages proactively to targeted customers.
Stronger risk management
Chatbot analytics is crucial for gaining insights and improving its skills. By monitoring the overall performance, you can figure out what is working and what is not. With gathered insights, your insurance chatbot can become one of the best AI conversational assistants that offer one-of-a-kind customer experience.
With proper governance and back-end system integration, chatbots reduce customer communications risk by increasing efficiencies and reducing human errors. They also provide an auditable digital trail for compliance officers and regulators and offer the ability to incorporate advanced authentication procedures.
Category of this article:
All