Hi, it's magic!
Would you like to see our AI chatbot in action? Try Actionbot!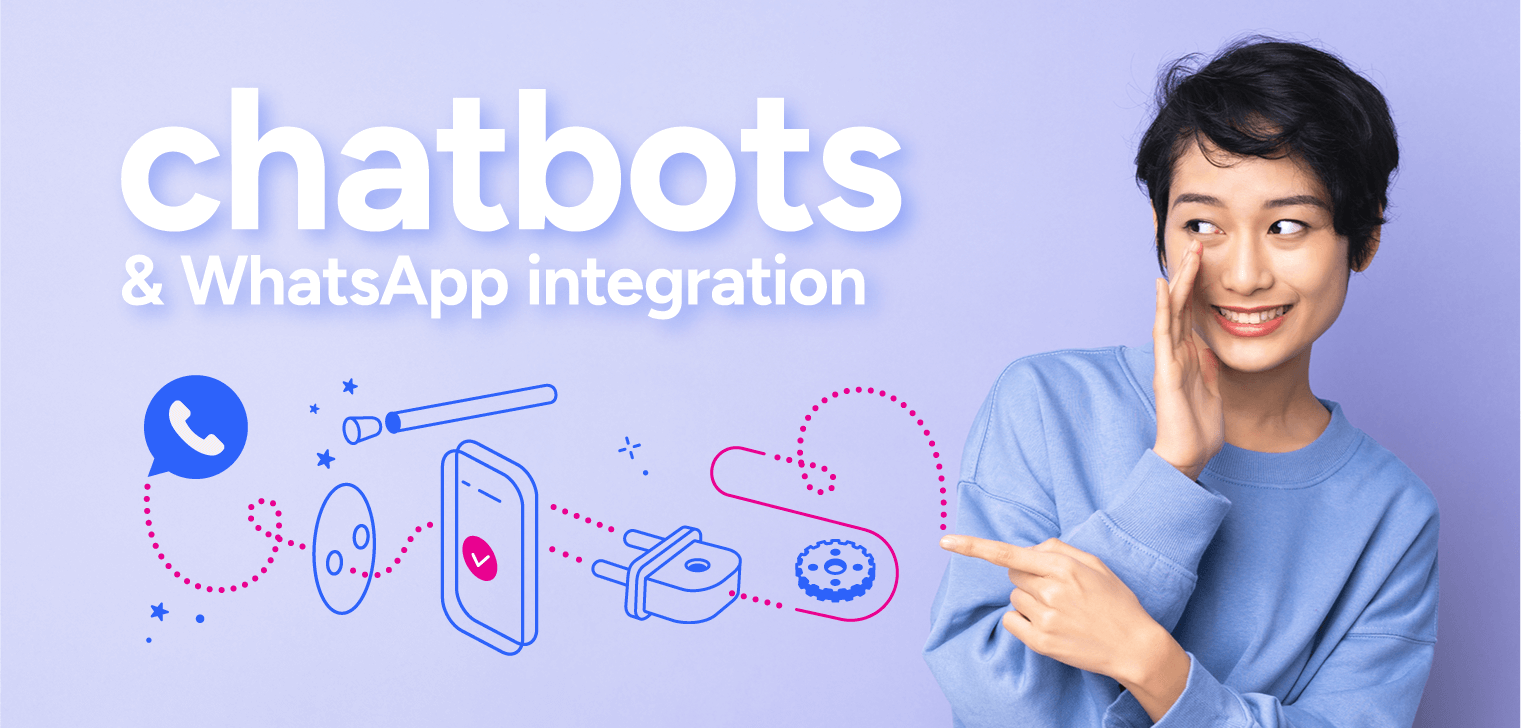 All
Actionbot and WhatsApp – chatbot integration automates your communication with clients
Customers are becoming more conscious and in control of what they can expect from businesses. Providing excellent customer service, listening to customer's requests, supporting them – these are the things that companies need to focus on. WhatsApp has already proved to be one of the most popular communication tools, and chatbots are the automation software that customer care truly needs. Imagine what chatbot and WhatsApp could do together. Providing smooth services should be the priority, and we're here to tell you how a seamless chatbot integration can automate and improve customer service.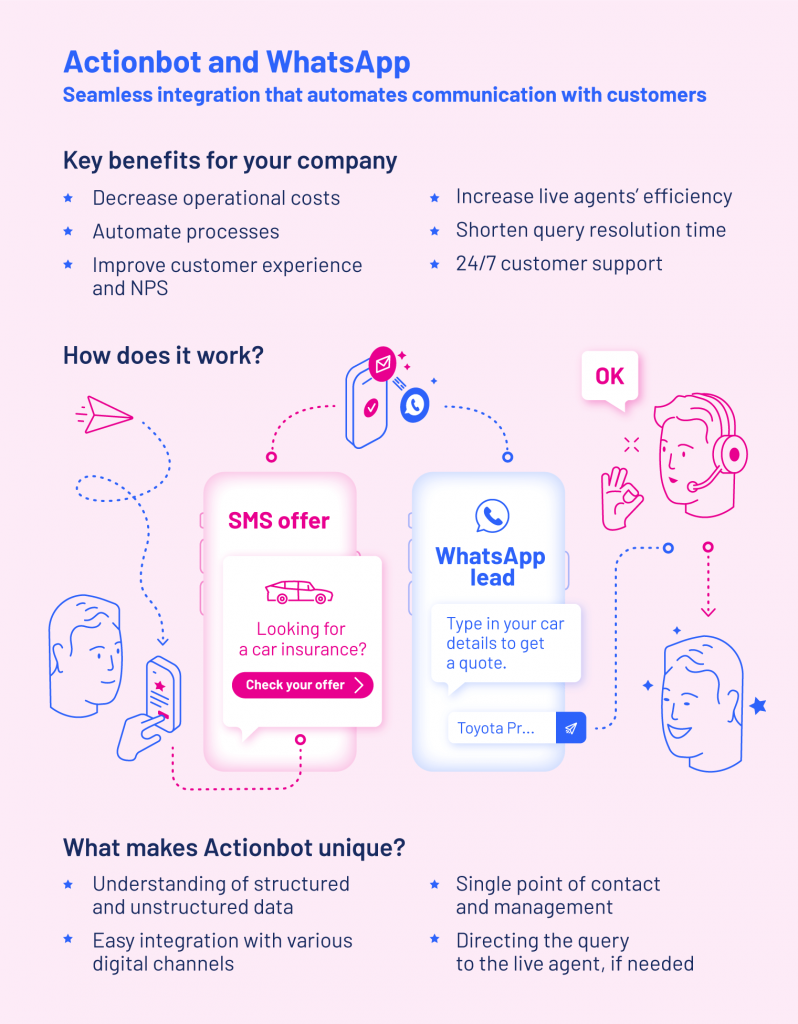 Why is chatbot integration with external channels so important for your business?
Modern communication has changed throughout the years. Our interactions with friends and family, or even using the language, like emojis or GIFs, have transformed. And consumers are the ones that have no bigger problems with adjusting.
Customers care about excellent service. They want to be treated as a priority, without the need to wait in a line. They need a quick problem resolution, a satisfying answer, a proper conversation. And they want to reach companies from any digital channel they currently use. The key to successful communication is to respond quickly to all inquiries in various channels – mobile app, website, social media, WhatsApp, and more.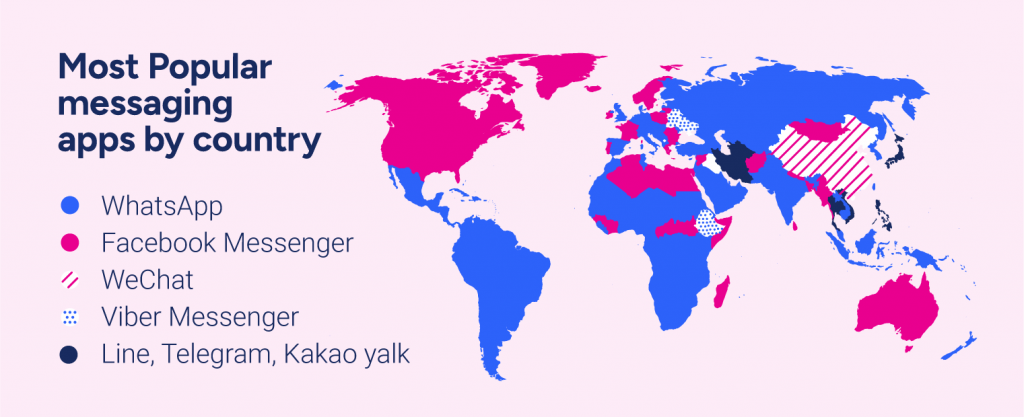 Companies struggle to make sure that customers' needs are met. They are trying to find the best possible solution. Messaging apps became the future of customer care – they offer direct and authentic feeling of connections with brands as well as a quick resolution of their queries. Companies know that, but they also know that the changes can be time-consuming and costly. That's why they prefer investing in chatbots rather than making changes in their current communications channel.
Chatbot and WhatsApp – a perfect cooperation to automate communication with clients
WhatsApp enables you to communicate in the way that you need – text messages, video calls, regular calls, or recording voice messages. Its main function, as a communication tool, surpasses even Messenger when it comes to popularity. How? Because of its simple interface, encrypted conversations, and the fact that it's completely ad-free. In general, WhatsApp has over 2 billion active users in 180 countries, and 65 billion messages are sent there daily.

WhatsApp can be used as a communication channel between the company and its clients. However, to make it a properly useful tool, you need to gather the whole support team. There always needs to be a live agent present to answer customers' questions. But what if we could automate these interactions with a chatbot integration?
Chatbots are becoming the rising star of innovation. They are the future of communication with customers because of its 24/7 availability and problem-solving abilities. Instead of involving live agents in resolving the most common queries, chatbot can do it for them, and it can do it a lot quicker. Chatbot and WhatsApp integration is a mixture that can revolutionize communication with customers. WhatsApp has already dominated the communication market, and chatbots are the automation that no company wants to be missed out on. Using automation in communication with your customers is what is truly needed to improve the whole digital experience.
How does the process look like?
Just imagine you create an SMS campaign for your clients (e.g. promoting travel insurance or new credit card). The conversion rate seems to be surprisingly good. After the campaign, you receive a lot of messages on WhatsApp from potential clients that bombard your overwhelmed support team. Your potential clients get tired of waiting for the answer, and at the end of the day, you lose their interest and decrease the effectiveness of your consultants who simply reply too late.
From our perspective, chatbot seems to be a perfect solution to automate the campaign from start to finish. After receiving the message, your client can be directed to WhatsApp via a link and start the conversation with Actionbot.
In the simplest scenario, Actionbot can gather the contact data from your customers to pass it to the call centre or live agent. That allows you to collect and process only the valuable leads.
In the more advanced scenario, Actionbot can lead the user through the whole process, ending with the payment link, where the user can finish the transaction. And all this without any consultants' support.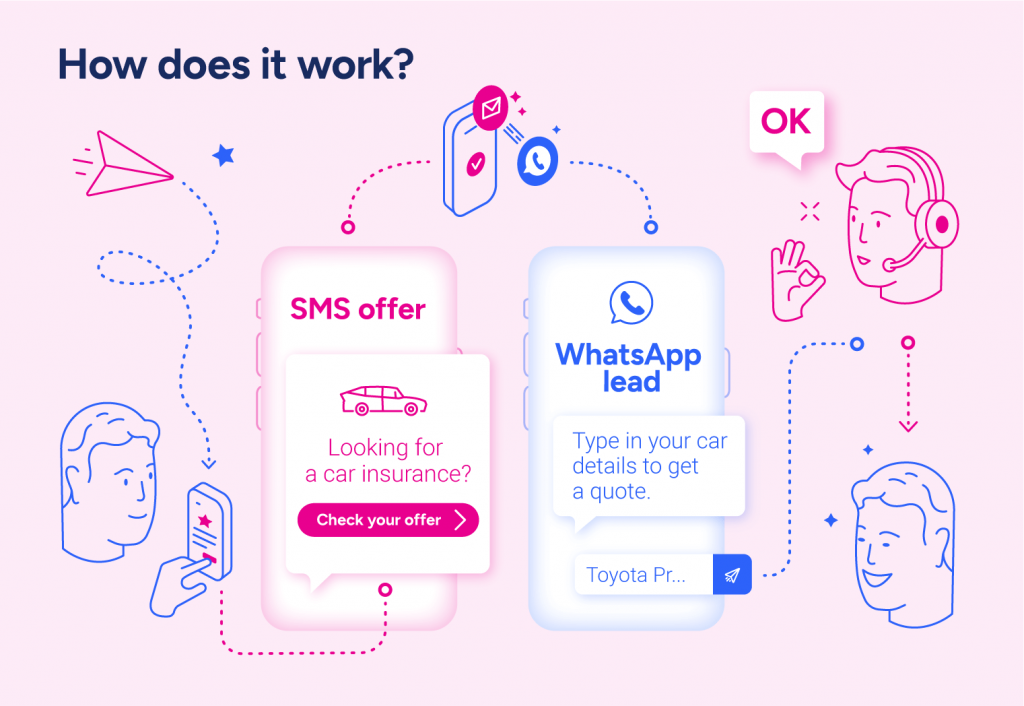 Our experience with chatbot and WhatsApp integration
TUATARA has already proven itself in terms of chatbot and WhatsApp integration in our latest implementation for Omantel. We decided to use Actionbot as a support for live agents in answering day-to-day repetitive queries. These inquiries kept human agents busy – the longer the waiting time for customers was, the more dissatisfied with the service they became. Actionbot was the answer the client was looking for. Advanced integration of our chatbot and WhatsApp improved customer care by automating the whole process.
The first step of our Actionbot integration was to create a conversational AI chatbot that answered the most popular questions. It helped with reducing query resolution time, live agents' occupancy and clicks made by users to finish the process. Actionbot was also used to top up customers' accounts or purchase another mobile offer, specifically adjusted to customers' needs. That was done thanks to the integration with company's CRM and billing systems.
The next step was to implement chatbot in the app and integrate it with WhatsApp to enable customers to switch between various digital channels. This integration helped with finalizing the transaction, that was started on WhatsApp, on the destined website or app. But Actionbot could do much more, and we wanted to use these capabilities – it can navigate the customer through the process, suggest recommendations, become up- and cross-selling advisor, or assist with collecting feedback. After that, we wanted to enable chatbot to carry out much of the internal administrative queries as well as a recommendation system for employees. We also used our bot to answer questions regarding responsibilities, VPN, solving technical issues, or improve HR processes.

The next steps
We started with a simple WhatsApp dialogue, but we wanted to make something more – a truly successful chatbot integration. Customers were able to receive useful information about offers. Thanks to Actionbot's ability to integrate with different channels, these offers became more and more personalized. By gathering information from WhatsApp conversations, Actionbot could assist and navigate the customer to the accurate site within the app where the transaction was finalized.
Deployment of the chatbot for WhatsApp means having a business account and access to WhatsApp Business API. The whole process of configuration and integration may be complicated, but with Actionbot, you don't need to worry about it. With our experience, we are the support that our clients need during this integration.
As our chatbot and WhatsApp cooperation successfully met the requirements of our client, we are more than sure that it isn't our last word in this matter. You can also read about our chatbot's implementation during the crisis. Stay with us for more updates!
Benefits of using Actionbot for WhatsApp
Chatbot and WhatsApp cooperation offers different possibilities for your businesses. Such chatbot integration can be also truly beneficial for the customers, and here are a few examples.
Customer support
Customers can receive assistance with their queries without the need to contact a live agent. Actionbot offers support by answering the most common (or even more complicated) questions at 24/7 availability in 13 languages. If unable to assists, it can direct the customer to a live agent. It is a perfect tool to support live agents with their day-to-day and repetitive queries.
See how Actionbot support customers in filling up complicated forms. Try out our operations automation demo
Navigation and discovery
Chatbots can assist in website navigation, but Actionbot on WhatsApp can also navigate customers to other channels, like websites or apps. By gathering the needed information from the conversation, it can direct each customer to the needed part of the chosen website and help with discovering companies' products or offers. Also, it allows finishing the transaction started within the bot window, on the destined website.
Try Actionbot's navigation skills. Check out our customer support demo
Lead generation
By gathering information from WhatsApp conversation, Actionbot may be a perfect up- and cross-selling advisor. It analyzes customers' purchasing history to offer personalized recommendations. It can quickly identify their needs and can suggest the most suitable product. You can read more about improving personalization of our chatbot here.
Look how Actionbot becomes a proactive lead generation chatbot. Try our lead generation demo

We need to remember that WhatsApp is only the beginning of full automation of processes within the company. It happens to be the perfect channel for up- and cross-selling, lead generation, or customer service, that truly develops thanks to the chatbot integration. We always try to explain to our customers that the omnichannel approach is the key to the successful digital transformation. That's why, with the help of Actionbot, your company can easily move towards innovation on a different channel, without the need to repeat previous stages of development. Actionbot is here to help with the integration. And we're here to support it at every stage.