Hi, it's magic!
Would you like to see our AI chatbot in action? Try Actionbot!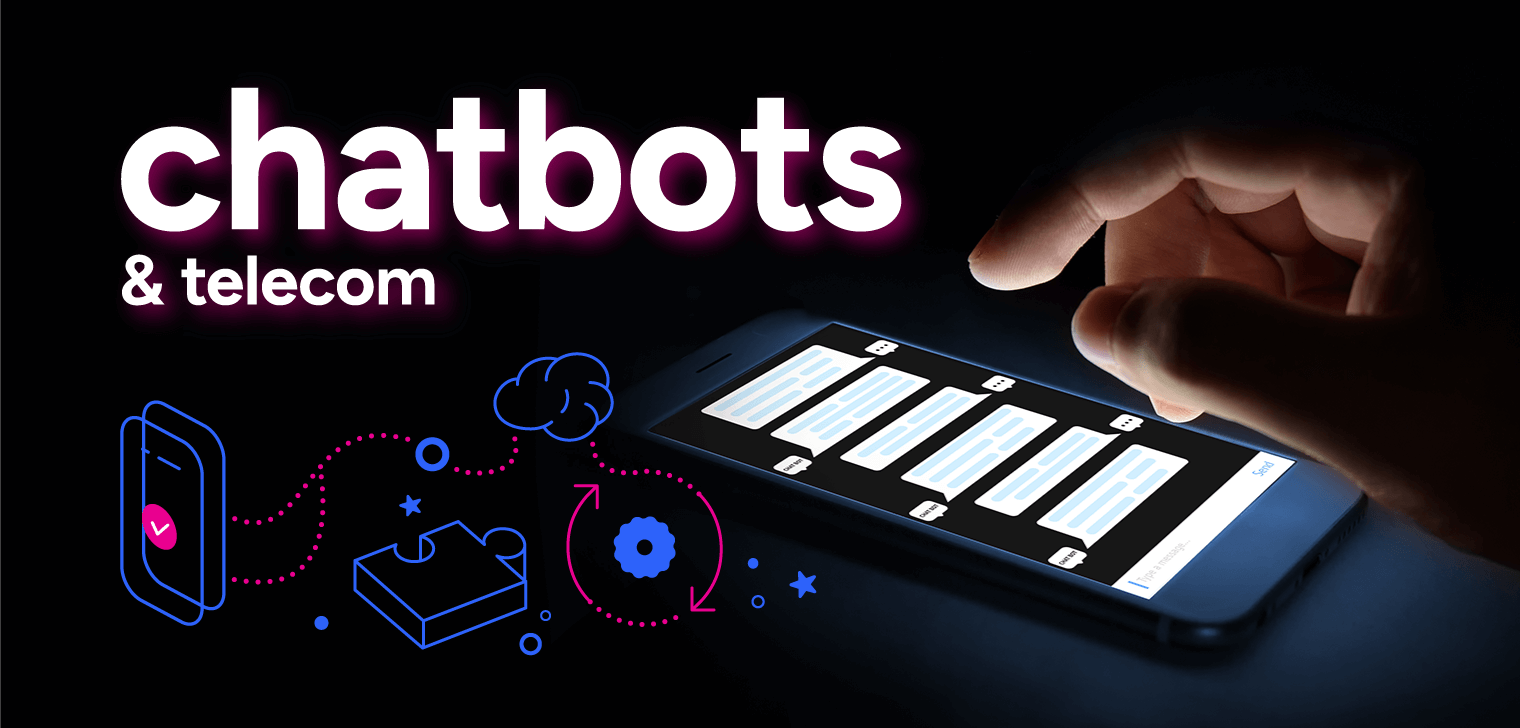 All
Conversational AI chatbots in telecoms are improving customer experience
From improving customer service and providing 24/7 support to reducing operational costs, or up-selling other services, the use of conversational AI chatbots in telecom industry became increasingly popular. They are the new technology that transforms how telecom companies operate. In the telecommunication industry, customer care is essential, and it needs to be put in the first place. The implementation of conversational AI chatbots can bring great support to the staff, as well as many other benefits.
In this article you will find:
Why is there a need for conversational AI chatbots in telecoms?
We are not going to tell you anything new – keeping the churn rate low is hard. Once the customer is unhappy with the service, he is gone. Within the era of e-SIM, it is even easier to change the operator than ever before. Moreover, in such a competitive landscape, where providers usually fight for a client offering lower prices, the only factor that enables you to keep your client happy is great customer experience. Telco providers with excellent customer support at every step of interaction with the client, are much more likely to get higher NPS, increase customer retention or expand their cross-sell (which means more money).
In big telecommunication companies worldwide, the average number of chats covered by agents per day are 31,5, and the average conversation lasts around 12 minutes. The average waiting time for a live agent is about 4 minutes, but during the Coronavirus outbreak, it became even longer, due to their work overload. Just imagine the possibilities if this time was reduced and the number of chats run by the agent doubled…

By implementing conversational AI chatbots in telecoms, you can reduce the waiting time even to a few seconds. Also, chatbots can operate 24/7. Such time effectiveness can let live agents focus entirely on advising customers, solving more serious issues, delivering the best experience, or pursuing cross-selling and upselling.
A few examples of using conversational AI chatbots in telecom industry
Implementations of conversational AI chatbots in telecoms are a great example of providing an excellent customer experience. Below we're going to list a few challenges – bad experiences – that are common for telecom providers and their clients. We also show some improvements that can be easily made with the help of conversational AI chatbots.
Long waiting time for live agents
Challenge
Answering day-to-day repetitive queries has always been a significant issue for telecom companies. These inquiries kept the human agents and all call centre busy and ineffective. But customers can also be unhappy with their support. The longer waiting time for customers is, the more dissatisfied with the service they become.
Solution
The total number of mobile subscribers in Oman reached 6.652 million by the end of 2019. One of the most popular apps amongst its citizens is WhatsApp that is used by 93% of social media users. Moreover, the global use of mobile and digital services is growing each day. More and more queries are resolved online, but the digital service's bandwidth and quality are getting lowered.
All these factors were the reason why we decided to start our implementation of Actionbot for telecom company with a mobile app and WhatsApp for Business. The first step of our implementation was to create a conversational AI chatbot that answers most frequently asked questions. What we also needed to consider is that there are a lot of expats in Oman, so it was important to deliver the solution in two languages: Arabic and English. Such implemented solution reduced query resolution time, live agents' occupancy and clicks made by users to finish the process.

One month after the implementation, we recorded 180k conversations, and this number increased 20% the second month. That shows that customers are getting used to communication with chatbots. Surprisingly, users were more focused on talking about new offers and promotions rather than solving issues. That means chatbot can be ideally used for upselling and cross-selling in this region.
That's not the end of our project. As our conversational AI chatbot met the requirements of our client, we decided to go a bit further. Due to the Covid-19 virus, most of the employees started working remotely. We could not choose a better time to do it. The main goal was to enable chatbot to carry out much of the employees' day2day administrative queries. We started with the bot answering on questions regarding responsibilities, VPN or solving technical issues.
Then we realized Actionbot could do much more: navigate the employee through the development, suggest loyalty and referral programs, or assist with collecting feedback.
Our main strategy is to keep Actionbot as chatbot-as a service. We want to be present and involved in every stage of chatbot development. Therefore, soon this project will evolve and expand to other business areas and channels that will be described continuously on our blog. Stay tuned! You can also read more about our chatbot's implementation during the crisis.
Getting lost on the website
Challenge
Customers are not always finding the website's design user-friendly. What may seem easy to find by more tech-advanced users can be hardly visible to others. Imagine a scenario – a customer is spending over 10 minutes on a website, getting frustrated by not finding the needed information, then leaves. The whole customer experience is negative.
Solution
Using the digital assistant is a far better alternative. Our Actionbot acts proactively and constantly analyze the customer's behaviour on the web. Once the user moves around pre-paid offers, but cannot decide what to click, our digital assistant can proactively ask "Hey. I see you are looking for pre-paid offers, let me help you with that. What's your budget?".

We find this use case very powerful. Why? Well, we assume that 60% of questions for live agents are repetitive and sound like:
Where can I top-up?
Where can I check my balance?
Where is the invoice for the last month?
Imagine if our conversational AI chatbot could answer all these questions. Time-saving, right?
You can see how Actionbot is improving customer experience in an example.
Dropouts from unfinished transactions
Challenge
Nowadays, most people are used to doing top-ups automatically, via mobile app or regular banking transfers. However, we need to remember that not all customers are like that. Some of them are using the "old-fashioned way" – on the website. Unfortunately, some transactions are dropped out because of too many complications.

Solution
If the company does not have a proper design of a digital channel, the whole process can be arduous. Instead of redesigning and reimplementing everything, the AI chatbot can be used as a third arm. The conversational AI chatbot, if notices customer having troubles with a transaction, can show up as a helping hand to finish the process. It can also help with choosing the most suitable plan or offer. We take this case even further. Actionbot integrates with external data sources such as CRM, transaction history, or customer's location to become a proactive advisor.
Actionbot remains as a single point of contact for the customer, which can reduce dropouts and save you some money.
It can also act as a lead generation bot, as in one example presented here.
Faster data usage from the chosen package
Challenge
Our telco data packages are usually proposed by the operators massively, not based on our preferences. They take time to know our needs, but often, it's more what they want to sell, not what customers truly need. Massive marketing campaign offering a new data package with a new iPhone is not very effective anymore. Customers are looking for more personalized offers.
Solution
Actionbot analyses customers' purchase history constantly. If a customer uses the data very quickly (and it probably happened much often during Coronavirus outbreak), our bot is going to notice this fact. Then, it can contact the client proactively and say "Hey, you buy the same package since December 2018. If you choose the other one, you could have 10GB more to enjoy the internet much longer. Are you interested?"
What's more, our chatbot can become a gentle reminder of unpaid bills. Customers tend to be a bit distracted, which often results in companies sending official emails about overdue invoices. It usually causes a lot of stress and keeps the distance between the company and its customers. Your bot can help you avoid this stress simply by giving them a friendly reminder of unpaid bills in the conversation.
See how Actionbot can become your product advisor to assist in making the right choice.
The need for sharing feedback
Challenge
Getting feedback is important but don't you have an impression that people become tired of constant calls and emails from agents asking about their satisfaction with the service? These questions usually come up after the issue is solved, so customers are not eager to think about it, let alone sharing feedback.
Solution
Chatbots are much better at getting feedback from customers. The bot can detect the sentiment of the customer based on the conversation flow. If it finds out that the customer is disappointed with the service, it immediately hands off the conversation to the consultant to continue.
Our Actionbot is constantly being improved and developed to become even better in customer service. Besides analyzing the conversation, you can simply use it to check the customers' level of satisfaction while chatting with him. The whole user experience depends on how you create the dialogue flow, which, fortunately, we are very good at.
Benefits of using conversational AI chatbots in telecoms
All examples listed above are proof of the actual benefits of using conversational AI chatbots in telecom industry. But that's not all that can be said about such solutions.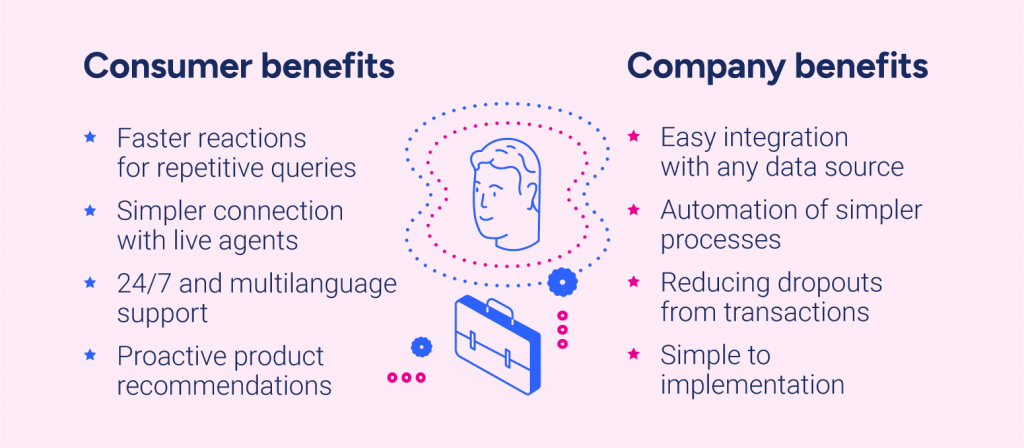 Category of this article:
All