Hi, it's magic!
Would you like to see our AI chatbot in action? Try Actionbot!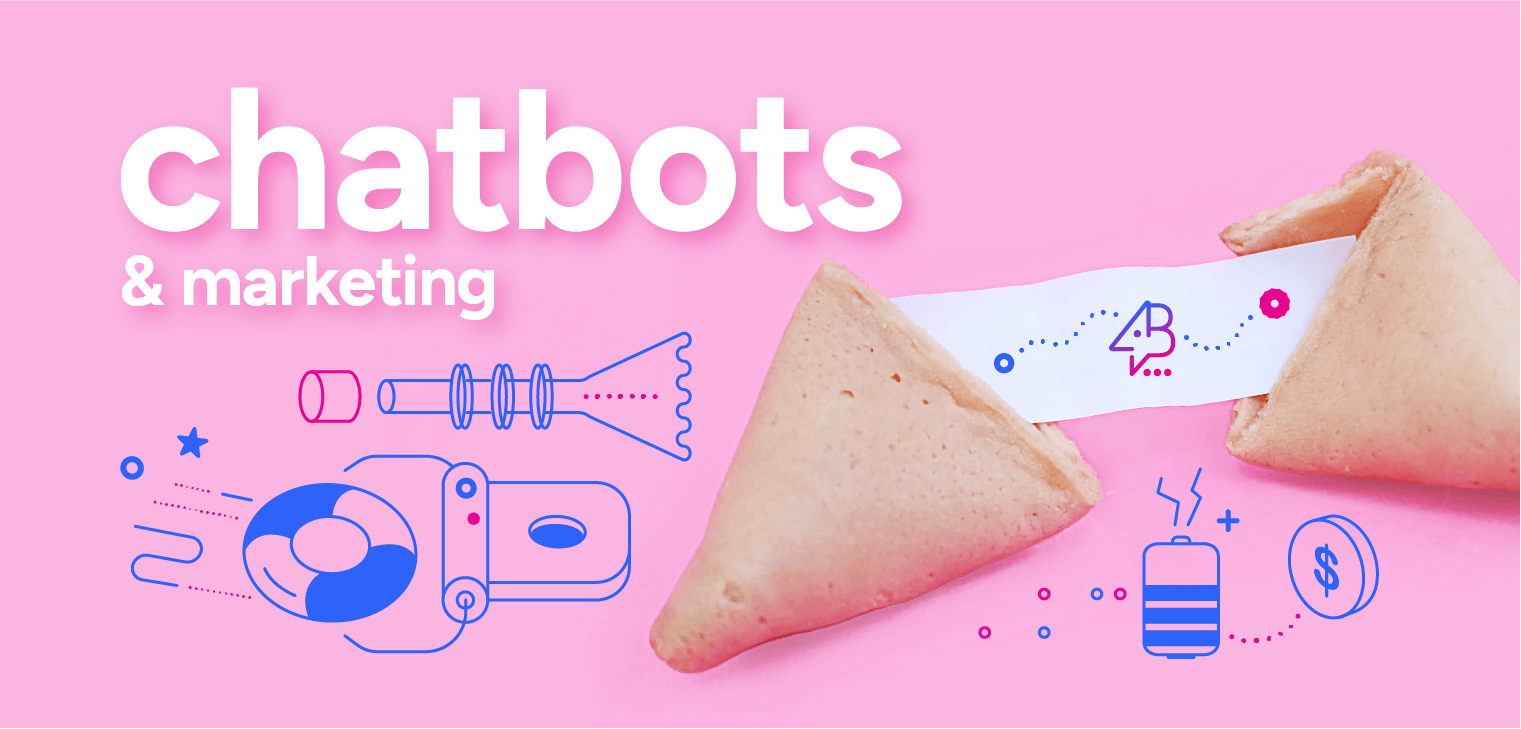 All
Chatbots in marketing – a helping hand in creating successful campaigns
Chatbots have a huge impact on businesses, whether in sales, service, or marketing. In particular, using AI bots boosts marketing strategies and helps companies to personalize their communication and acquire loyal customers. Even when the marketing objectives differ for businesses, chatbots can still help in all scenarios by redefining how communication happens. So, you need to define a clear objective as it helps to succeed while implementing chatbots in marketing strategy.
The role of chatbots in marketing
Chatbots in marketing are used to automate interactions with prospects and drive revenue. You can deploy chatbots on the website, on messaging apps, or as part of native brand apps. They can generate, qualify and engage leads regardless of the online availability of marketing and sales teams. They also leverage conversational automation to increase conversion and customer engagement. However, the main goal of chatbots in marketing is to answer support questions and start conversations with website visitors as and when needed.

There are a few things to consider while implementing a marketing chatbot:
Understand the context of each conversation and personalize it to engage customers in real-time and make them feel connected to your business.
Don't pretend your chatbots are human, but remember to make them sound as if they have a regular human-like conversation.
Use chatbots smartly and trigger their actions not too quickly or in the wrong places on your website.
Test and refine your chatbot regularly.

Having this in mind, let's see what exactly a successfully programmed chatbot in marketing can do to help your business.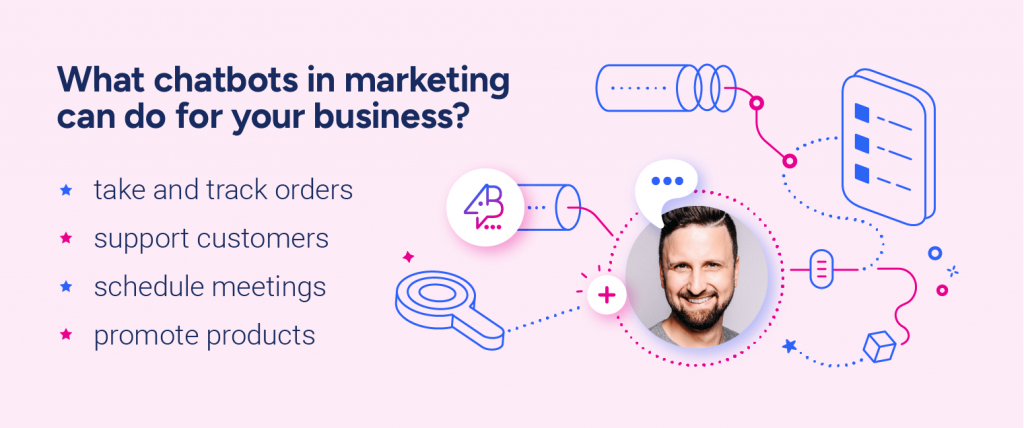 Take orders
A chatbot is a true life- and time saver, especially for the e-commerce sector. It allows taking orders directly in the chat window, significantly reducing the purchasing process. Also, while customers are not yet ready to make a purchase, a chatbot can tighten the search results before directing them to a real person.
Support customers
A chatbot is also a great assistant for answering questions any time of the day, seven days a week. Besides, working 24/7 helps in solving problems with different time zones. For example, companies located in the US with their main customer base in India use chatbots to avoid hiring customer support on a double-shift basis.
Schedule meetings
Booking meetings with customers is a vital part of the marketing process. However, managing appointments is really a time-consuming task. Using chatbots in marketing makes it quite easy to schedule, modify and cancel meetings, all without involving any human help, which can easily assist in closing the sales.
Track orders
Automating the entire process of order tracking of products will truly increase efficiency across the entire logistics value chain. A sophisticated chatbot allows tracking packages, while the simpler one can automatically inform a person about the shipping and delivery.
Promote products
When people start communicating with a brand, it's important to constantly update them about the latest products or services. A chatbot in marketing makes the promotion process a whole lot easier by staying in touch with customers and keeping them engaged.
How to use chatbots in social media?
As it was mentioned before, chatbots could also be implemented via social media apps, such as WhatsApp or Facebook Messenger. Implementing chatbots in a digital strategy is almost necessary – mainly because they ensure a more personal engagement with users. And social media chatbots are a great way to get to know them better and find out which products interest them the most. Also, chatbots can help streamline the purchase processes, give better access to information, offer 24/7 customer service, or increase conversions.
Dive further into this topic.Read our article about chatbots for social media
Main benefits of chatbots in marketing
A well-devised marketing strategy is extremely helpful in engaging prospects and converting them to marketing-qualified leads (MQLs) or sales-qualified leads (SQLs). And when conversational bots are leveraged, all digital marketing targets can be achieved even without increasing resources.
There are many benefits of including chatbots in marketing strategy. Let's discuss them in detail.
Segment traffic
Chatbots in marketing can help segment traffic and advertise products to the targeted audience. Research shows that around 77% of a company's return on investment (ROI) comes from segmented and targeted communication. For example, if a person is interested in one of the products, the chatbot identifies them as a warm lead. Based on that segmentation, chatbots can engage them at the right time.
Speed up the purchase process
Chatbots can also be used to complete payments without a customer needing to move from the window they're on. This means customers can make orders and pay right there in the chat window, which takes up much less time and effort. All that needs to be done is to connect a money transfer service to your chatbot – and it makes the process much quicker and more efficient.
Boost engagement
Using chatbots can increase customer engagement and boost sales using conversational marketing. They can collect orders and move the client down the funnel toward the sale. Juniper's research states that purchases resulting from chatbot-based interactions will increase from $7.3 billion in 2019 to $112 billion by 2023.
Gather and nurture leads
Companies that answer quickly after receiving a query are more likely to acquire new leads. Chatbots in marketing can do that at any time of the day, also providing suggestions that increase the chances of a sale.
They are a great tool to auto-qualify leads because they can ask relevant prequalifying questions to visitors. What's more, chatbots for lead generation allow customers to quickly make choices by simply selecting the option most relevant to them. Conversational bots qualify the high-intent leads and help nurture the captured leads, increasing the possibilities of generating new sales.
Respond quickly and accurately
Building a responsive business is key to enhancing customer experience. Chatbots allow instantaneous responses, which results in a positive user experience. Chatbots will help grow brand image, engagement, and trust if utilized smartly.
Save time and money
Chatbots allow companies to serve more clients with fewer resources and effort. Creating a chatbot is a one-time investment and worth every money. Even if a potential client is browsing the website during the night, a marketing chatbot can provide personalized recommendations and help with orders. This could improve the whole shopping experience and land some extra sales.
Collect data for analysis
Marketing chatbots can collect customers' names, contact details, or main interests during the conversation. Again, each customer can complete a satisfaction survey to give insights into the brand. Together with the information about the chatbot's performance, it is great data to analyze. The results can be used to make the chatbot more effective.
Do you want to increase sales with the help of AI? Read our article about e-commerce chatbots
A few successful examples of including chatbots in marketing campaigns
The above benefits of chatbots in marketing are not to be overlooked. This technology has moved to a stage where it can easily replace traditional web forms and offer users a more innovative and way simpler option to get in touch with the brand.
Now, let's take a look at a few examples of companies that created successful marketing chatbots.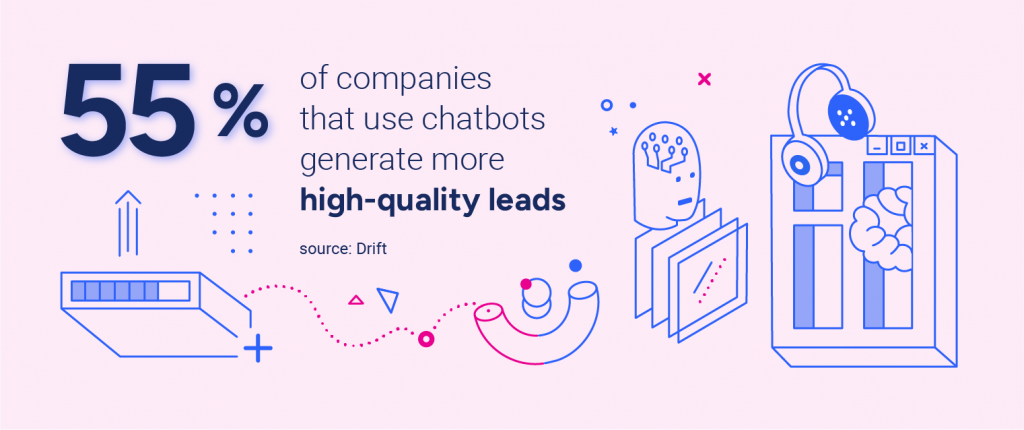 Estée Lauder
In 2018, Estée Lauder combined augmented reality with chatbot technology to allow users to try on a selection of lipsticks before purchasing them virtually. They gave customers a short quiz the chatbot used to make personalized recommendations. If the customer were satisfied after trying the lipstick virtually, the chatbot would direct them to the online shop to purchase.
Estée Lauder has become the first major beauty brand to provide a skincare experience for its customers through WhatsApp. The chatbot helped the company connect with its customers without visiting the stores. It fulfilled customer needs while providing CRM opportunities for the business and capturing customers' details. Also, it was based on a channel where customers have shown to be receptive to innovative experiences.
How to succesfully integrate chatbots for WhatsApp? Read all about it on our blog
Match.com
As part of its social media marketing strategy, Match.com has launched a Facebook Messenger chatbot called Lara. It was created to help customers find that special someone. With the help of natural language processing techniques, it asked them personalized questions in a casual conversation to find out what they want in a potential partner. Then, Lara matched customers with selected potential partners based on the conversation.
Spotify
Spotify has implemented its own chatbot within the Facebook Messenger feature as an easily accessible social extension of its audio streaming platform. With a few simple questions, customers could get personalized playlist recommendations based on preferred styles, what they're doing, or even their mood. This was a quick and easy form of organic marketing for the company, allowing customers to get the most out of the music platform in an incredibly engaging and personalized way.
Volvo Cars Amberg
A German car dealership, Volvo Cars Amberg, created a marketing chatbot with an integrated Typeform survey on their website. Its goal was to provide an instant, customized price quote based on visitors' input.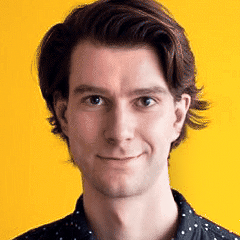 We increased lead generation on our website by about 300%. We are also able to prioritize high-quality leads and offer them an even more personalized experience.
Tobias Wamser MARKETING MANAGER OF VOLVO CARS AMBERG
Moreover, leads coming through the Volvo dealership's chatbot were more likely to purchase a vehicle than those acquired via the contact form. That happened because customers got immediate answers to their questions or could book a test drive online.
Actionbot – taking action in marketing
After reading this article, you won't think anymore that chatbots are only used for customer support or answering simple questions. Using them in that way is just one of the options to leverage their limitless possibilities. With the right setup, a chatbot can power up your marketing strategy and ensure you never miss a valuable lead. Chatbots in marketing can successfully bridge the gap between "first-time visitor" and "qualified lead" while ensuring an on-brand, positive customer experience.
Actionbot is an excellent example of a chatbot that took action in its "hands." It can act as a great support, generating leads and supporting companies in their marketing campaigns.
See what else Actionbot can do for you, or read our few successful case studies.