Hi, it's magic!
Would you like to see our AI chatbot in action? Try Actionbot!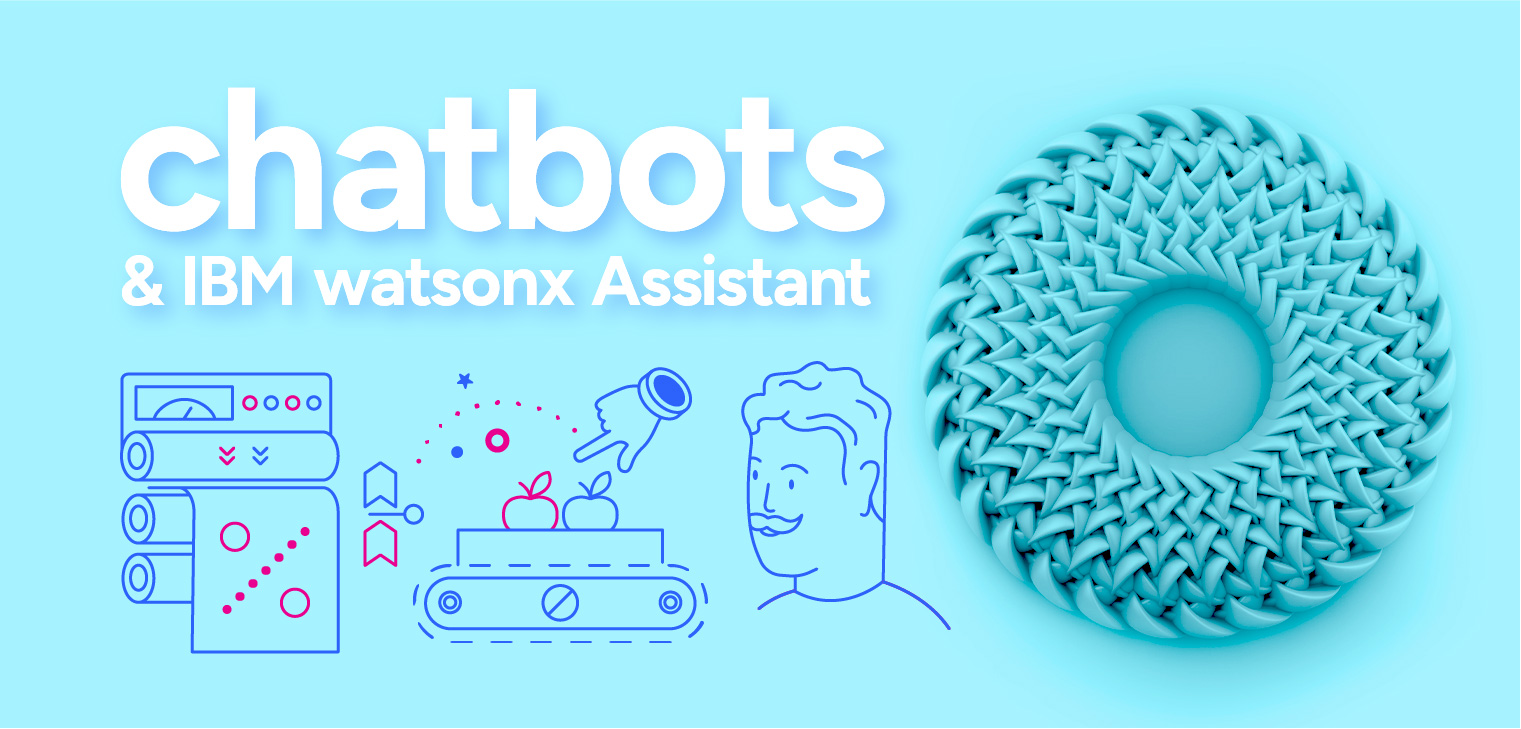 All
IBM watsonx Assistant – an AI-powered engine for building conversational virtual agents
IBM, a global leader in conversational AI, provides a platform for building chatbots with ease. IBM watsonx Assistant uses artificial intelligence to automate self-service actions and bring exceptional customer experiences. Actionbot, built on this engine, is one of the examples of innovative conversational chatbots that seamlessly guide customers through all channels, providing the best digital journey.
What is IBM watsonx Assistant engine
IBM watsonx Assistant is a leading conversational AI platform that helps businesses overcome friction and provide exceptional service to customers, prospects, and employees. This engine is powered by large language models (LLMs) and an intuitive user interface. With IBM watsonx Assistant, you can create AI-powered voice agents and chatbots that automate customer service across all channels and touchpoints, integrating seamlessly with your business tools.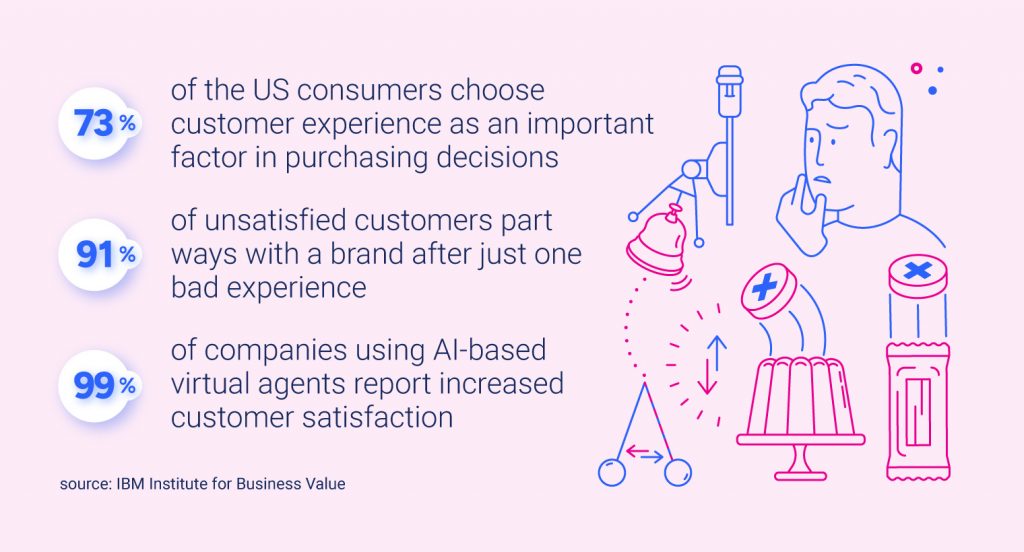 What are the best features of IBM watsonx Assistant
This AI-powered engine is endowed with many innovative features that allow for building chatbots and virtual assistants. Explore how IBM watsonx Assistant can improve communications with customers, boost productivity, and enhance your financial results.
Support for agents
As much as their experience is invaluable, human agents spend too much time looking for the right answers to customers' queries, lengthening response time and increasing frustration. AI can automate most of the repetitive requests, which helps agents feel empowered to solve more complex customer problems.
IBM watsonx Assistant uses AI to give agents relevant insights and information to speed up the process of resolving inquiries. With seamless integration across various channels and back-end systems, this engine can automate responses and learn from past interactions. It can also recognize intent, entities, and sentiment in real time, supported by best-in-class natural language understanding (NLU) and natural language processing (NLP).
Artificial intelligence
IBM watsonx Assistant lets you build AI-powered chatbots and voice assistants that understand complex queries and easily navigate human conversations.
It can be done thanks to the below functionalities:
Conversational search that uses LLMs for retrieval-augmented generation (RAG), designed to generate accurate, conversational answers using access to the knowledge base.
Improved reasoning and user intent recognition thanks to the NLU engine that enables a better understanding of human language and easier classification of requests.
Autolearning AI technology that automatically remembers past interactions and uses them to answer questions better and improve conversation flow.
Multiple integrations
By using IBM watsonx Assistant, you won't need to migrate your tech stack because integrations with various channels are much easier. You can seamlessly connect all the channels where your customers engage with the systems, such as messaging apps, search engines, pre-built extensions, or even some custom applications.
What applications your AI engine can integrate with? Here is the list
Enhanced security
IBM watsonx Assistant provides an additional layer of security and scalability for large, complex, and data-sensitive organizations. You can deploy it on-premises, using IBM Cloud Pak, or wherever you need, with the possibility to change your decision over time. IBM provides three data centers that operate smoothly to ensure your Assistant's availability. Also, the Assistant can grow with your company's needs and scale to meet customer demands.
Using IBM Watsonx Assistant as your engine gives you total data ownership, isolation and protection. We support your data against security risks by performing internal and external penetration testing, chatbot security testing, and ongoing reviews. You can also choose who in your organization can view and edit individual skills, assistants, and entire instances.
Quick and easy setup
IBM's chatbot builder streamlines creating chatbots with no coding skills using reusable components. You can create and customize user actions using pre-built templates and integrations, and you can re-prioritize steps within an action by the drag-and-drop interface. The disambiguation feature prompts for clarification if your user's request isn't clear, ensuring that your chatbot communicates accurately.
Use an IBM engine to build a conversational chatbot. Read our article to learn how
Improved customer experience
IBM watsonx Assistant is powered by the innovative NLU and conversational AI algorithms that enable your customers to enjoy a natural conversation with a human touch. Also, it gives an omnichannel experience thanks to its various integrations. Your customers will also appreciate a seamless conversation transition to an agent, as they wouldn't have to repeat information at every step.

How to use IBM watsonx Assistant in various industries
You can quickly configure IBM watsonx Assistant to meet the special needs of every sector. Let's take a closer look at some of the use cases.
Banking
The banking sector is constantly growing towards digital transformation. As customers demand automated experiences and personalized interactions, companies are searching for solutions to address these needs. IBM watsonx Assistant delivers quick and accurate answers, eliminates long waits for information, and ensures the right human interactions.
It delivers excellent customer support by empowering customers with self-service. By using quick access to basic banking functions, they can resolve their support issues independently, from finding branch locations to paying bills, transferring funds, and more. Also, the advanced AI capabilities contextualize the banking experience, providing customers with relevant suggestions and helpful guidance.
AI chatbots enable customers to extract valuable insights and use them to optimize performance. Finally, IBM watsonx Assistant uses NLP to elevate customer engagements and respond quickly and effectively to their queries in real-time.
Discover the importance of automation. Read more about chatbots in the banking industry
Government
Responding to citizens' inquiries about public services is a key matter for the government sector. IBM watsonx Assistant's advanced AI-driven automation streamlines fast, accurate answers that deliver elevated experiences with measurable cost savings. It empowers citizens to access basic inquiries, delivering the best self-service support experience across all citizen engagement points. Also, its NLU feature, paired with advanced clarification and continuous learning, helps achieve better understanding and accuracy.
Healthcare
AI-powered healthcare chatbots can support patients and streamline experiences through intelligent automation. With the power of IBM watsonx Assistant, you can focus the attention of skilled medical professionals while empowering patients to help themselves with simple inquiries quickly.
IBM watsonx Assistant improves the customer experience with automated self-service answers and actions. It also delivers the best experience and integrates AI-powered agents with existing systems and processes.
Learn more about chatbots in healthcare. Read about our implementation for the public sector in Oman
Insurance
Customers with insurance inquiries don't want to be put on hold or repeat themselves whenever their call is transferred. They need immediate, personalized assistance aligned with their high expectations. IBM watsonx Assistant uses NLP to streamline fast, accurate answers that optimize customer experiences.
AI chatbots allow customers to access basic inquiries, such as questions about their insurance policy or resetting passwords. They provide quotes and pricing, check coverage, claims processing, and handle policy-related issues. Also, their built-in disambiguation guarantees clear communication with rapid, accurate responses and routing.
Check how our chatbot for the insurance sector supports customer service. Read more here
Retail
IBM watsonx Assistant fuels the retail sector, delivering the best possible customer support. It offers intuitive, drag-and-drop builds and delivers highly personalized, contextually relevant shopping experiences.
The support offered to the customers enables them to find retail store locations or interact with complex inventory management and pricing systems. Also, AI chatbots leverage human agents so they can focus on higher-value opportunities.

Thanks to the advanced AI, IBM watsonx Assistant accurately responds to customer inquiries with personalized guidance. It captures every lead and understands intentions for personal follow-up by a live agent, which measurably elevates customer experiences. Also, it can provide personalized recommendations and inform customers about opportunities so that they accurately understand every relevant possibility.
Discover how you can use Actionbot as a shopping bot. See more here
Actionbot – a conversational chatbot built on an AI-powered IBM engine
As one of the most advanced AI-powered conversational chatbots on the market, Actionbot uses the IBM watsonx Assistant. It not only allows our virtual agent to lead human-like conversations and put them in the appropriate context but also elevates the customer experience to a whole new level.
Browse through our case studies to see how Actionbot's innovative functionalities can revolutionize your business.