Hi, it's magic!
Would you like to see our AI chatbot in action? Try Actionbot!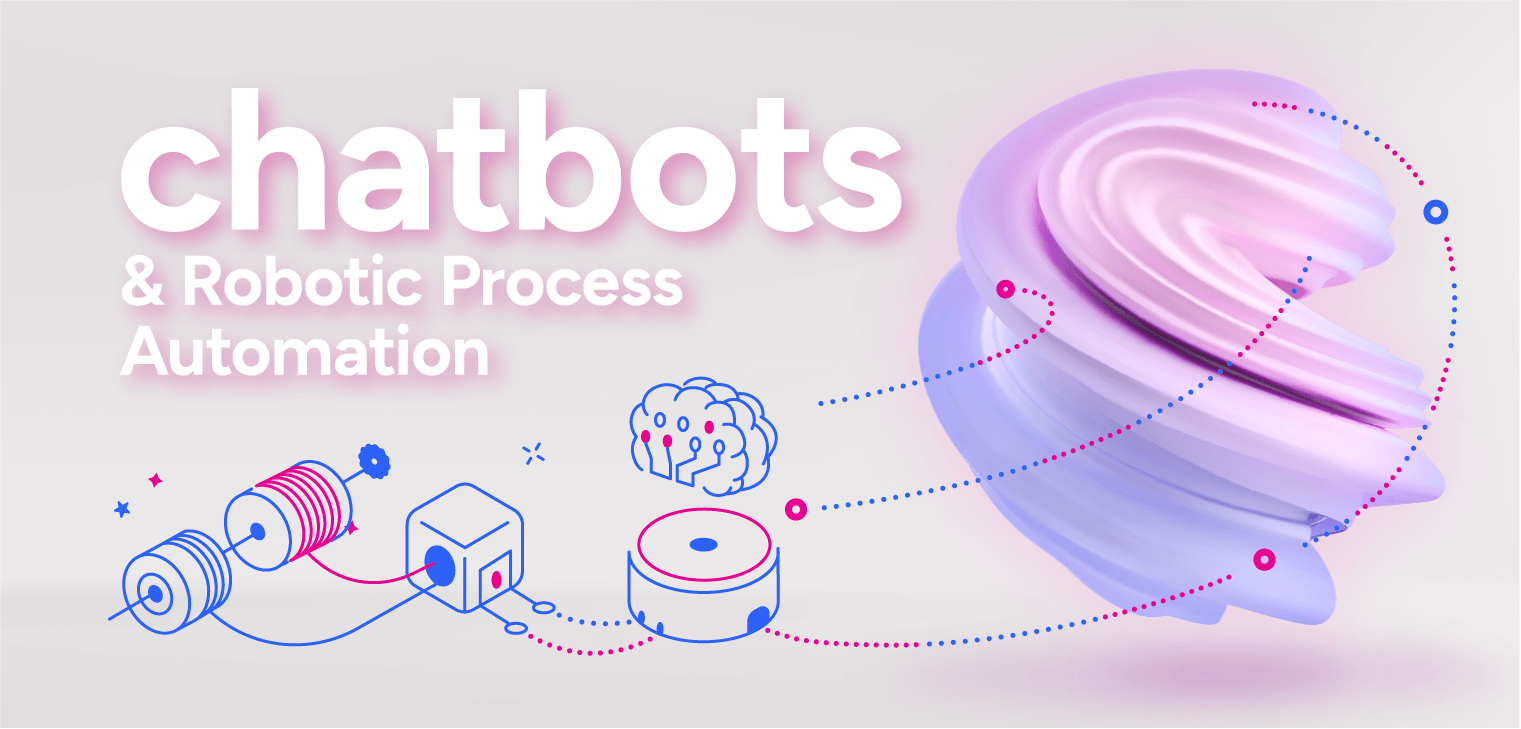 All
Actionbot – an RPA chatbot that revolutionizes customers' experience
Various industry sectors have become less manual and more automated over the last few decades. Increased development of AI and robotic process automation (RPA) creates new opportunities to increase automation or apply better intelligence and cognitive understanding to business processes. Let's now imagine that we can combine RPA and conversational AI chatbots. Actionbot, an example of such a combination, is an innovative RPA chatbot that may disrupt how different sectors approach automation.
Is RPA the thing of the past?
Automation has been around for decades, and Robotic Process Automation represents the first phase of evolution in automating processes. By implementing RPA, processes are automated more by teaching robots what to do rather than automating them thanks to the special code or scripts. On the other hand, a chatbot, the more evolved automation solution, is programmed to have a conversation with the user as well as the ability to pre-learn a resolution to a problem.
The target audience of chatbots is business customers. They are designed to help with relaying information and data in a conversational format. Chatbots are great in improving response time, increasing query resolution time, and strengthening brand visibility. RPA generally performs back-office tasks. These streamlined processes can include data mining, data cleansing, and workflow automation. However, there are also some drawbacks in the implementation of both these solutions.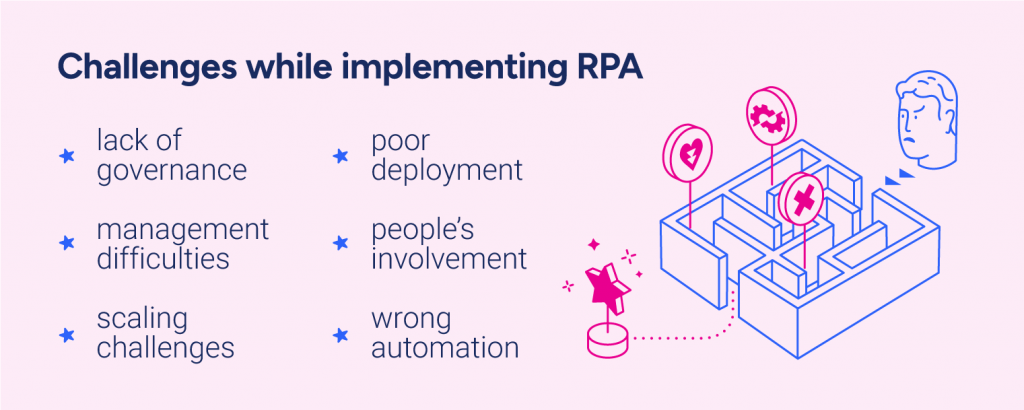 As RPA and conversational AI technology have constantly been evolving, they are more and more intersect. However, the development of solutions that combine conversational AI with RPA is just getting started, but our Actionbot is an example of an innovative solution that offers the best from such a combination.
Actionbot – an RPA chatbot that combines conversational AI with automation features
Actionbot, thanks to its automation skills and multiple integration possibilities, is the perfect example of an RPA chatbot. It can navigate customers within the channel and automatically completes forms using information gathered during the conversation. Actionbot can easily adapt to the preferred channel and doesn't require any internal changes to the website. That is one major cost cut for any company. All these functionalities positively impact the customers' experience and increase the customer support teams' efficiency.

Actionbot, as the combination of conversational AI chatbot and RPA, can solve some of the major challenges for companies. It helps overcome rising internal and external support expectations with reduced operational costs by solving queries without any human intervention. This also helps an agent to become more efficient, as they will not have to invest their time and energy in repetitive tasks.
Learn more about automating processes, such as claim processing or filling out forms.Read our article about automation in the insurance sector
Up-selling and cross-selling
Up-selling possibilities allow Actionbot to provide personalized products and services recommendations. It analyses customers' preferences and finds the item that best suits them. Also, by remembering past purchases, Actionbot can recommend the next products according to what customers prefer. Thus, it is an innovative assistant that proactively reacts to customers' behaviour on the website. With such an approach, it becomes the best shopping advisor that improves the whole digital experience.
Product recommendation based on customer preferences allows companies to learn more about their target group and their shopping patterns. They can also increase engagement and help with up-selling. Providing customers with personalized results may also help in increasing the conversion rate. Also, RPA chatbots such as Actionbot improves the whole customer journey by making it smooth and short.
Are you interested in Actionbot being an innovative sales advisor? Read our article about e-commerce chatbots
Struggle detection
Actionbot can automatically identify and measure the areas of your website which cause frustration by detecting struggles. Using this, companies can find areas where customers struggle the most and learn which pages are responsible for the most struggle. Reducing struggle will improve website conversion and digital customer experience. Also, measuring customer struggle over time helps understand behaviours and make necessary improvements on the website.
For example, when a user spends too much time navigating between the bars on the website or when the form takes too long to fill out, Actionbot takes over. It reacts to user's actions within the channel and offers a helping hand to shorten the time spent on some processes.
How Actionbot can automate internal processes? Take a look at one of our case studies
Integration possibilities
The possibility of integration with any digital channel through API allows scaling Actionbot to other business areas. The ability to support multiple channels reduces the cost of solution's development in the long term and provides just-in-time support, regardless of the channel. Actionbot can also integrate with internal data sources (e.g., CRM, Salesforce, Microsoft Dynamics, Siebel) and other communications channels used within the company (call centre, chat, contact forms), which helps obtain necessary information from various data sources. It also enables full support for internal and external processes as well as continuous communication with users.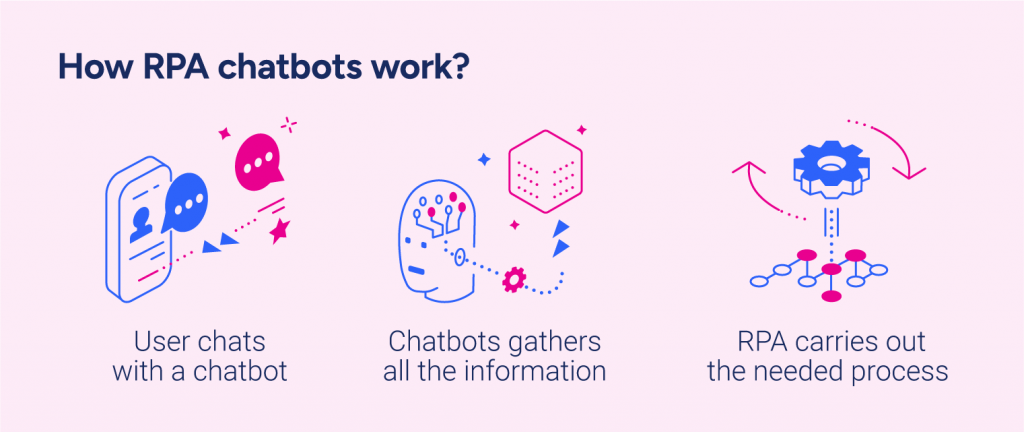 Non-traditional use of RPA chatbots is integration with various applications. It integrates applications by replacing the manual steps required to get the data from one application and enter it into another application. When developing application integration, complex interfaces and integration processes have to be built. And there are many choices, all of them requiring a significant development effort. When the volume of information is not too big, the traditional integration approach can be sufficient. But when integrated data is big and not updated frequently, Actionbot can be a good choice to integrate applications easily.
Actionbot can be easliy integrated with various apps. Read our article about WhatsApp integration
UI customization
Actionbot allows simple customization of its UI according to the company's image, making the solution an internal part of the channel. It is built on an IBM Watson engine that allows text analysis and understanding (NLU/NLP). It uses Machine Learning to understand the context. The engine is flexible in terms of implementation, integrations, and additional AI services (e.g., semantic analysis, unstructured data analysis). The engine provides service in 13 languages.
Learn more about the technical side of Actionbot. Read our article about self-learning chatbots